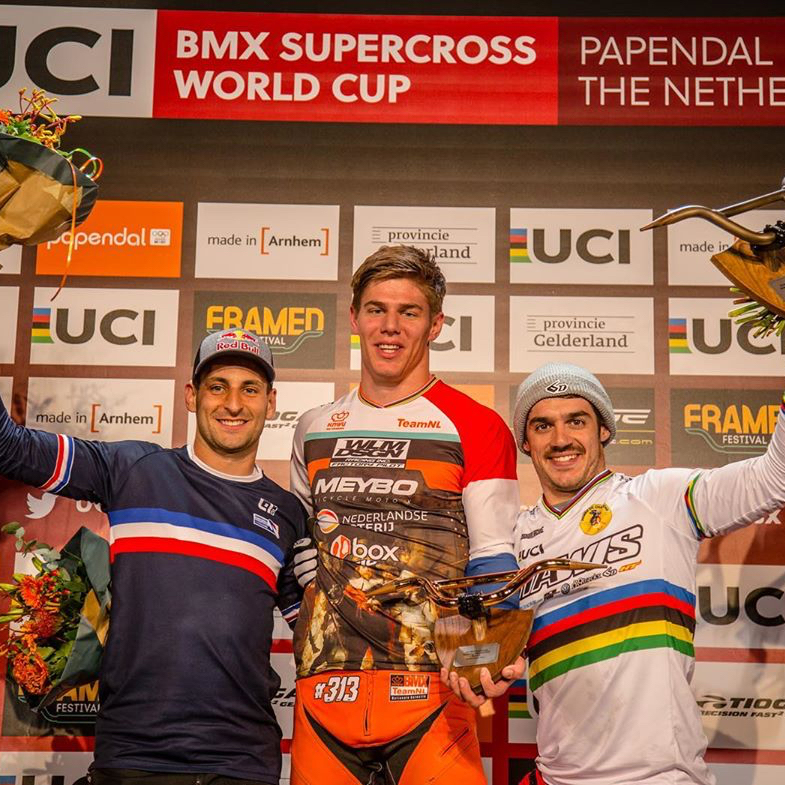 The UCI BMX Supercross World Cup tour headed to stop #2 of the tour for rounds 3 & 4 of the 2019 season. Coming into the event, Joris Daudet was the overall points leader for the UCI Elite Mens standing and he was looking to keep to coveted Red Leaders Number plate.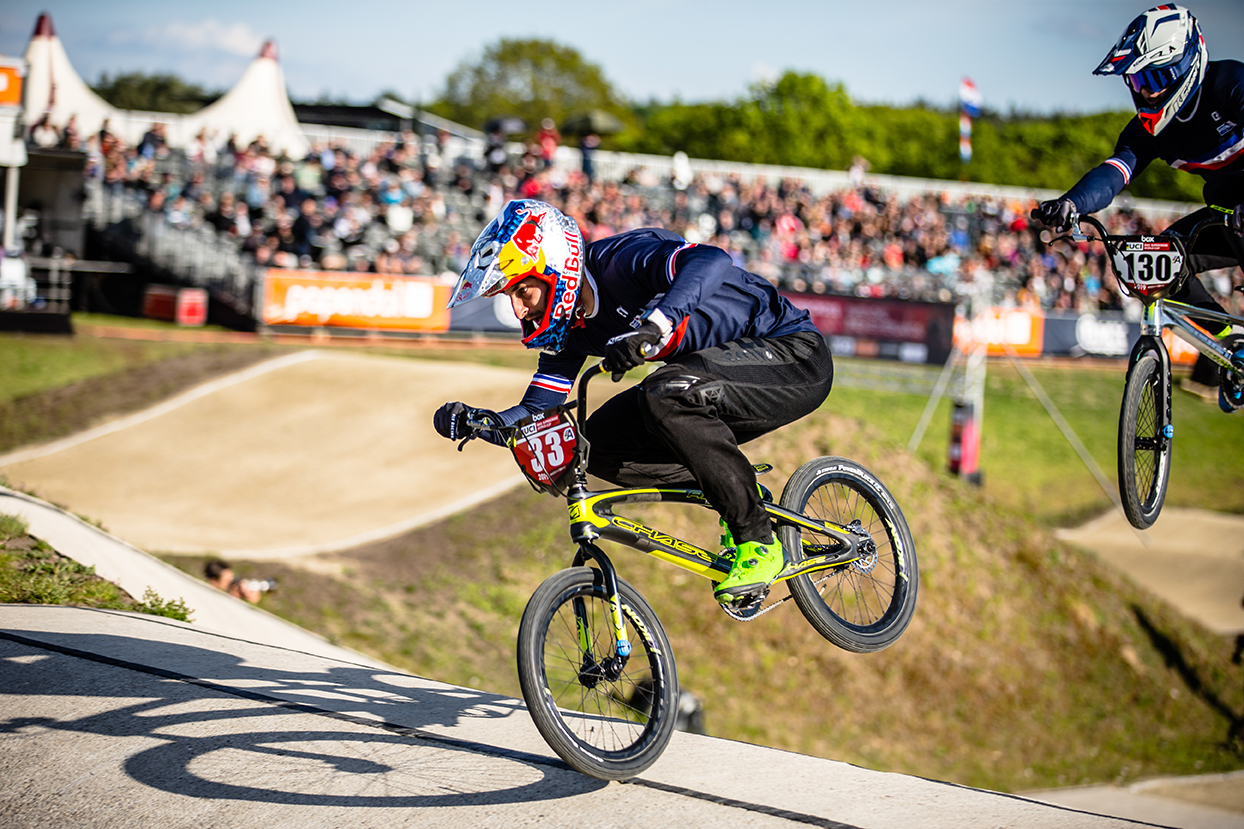 On Day 1 of the weekend, Joris looked to be one of the top riders on the Papendal SX track, as he would lead and win each and every pal he raced up to the main event. In the main event, Joris had a great start and a slight lead, but a drag race would ensue with Niek Kimmann and entering the first turn, Niek would just edge out Joris. Joris tried to stick to the inside of Niek, so he could battle for the win, but he was carrying just a bit too much speed, high sided off of Niek, and would need to hit the brakes, so not to crash. Joris would go on to finish 7th for the day.
On Day 2 in Papendal, Joris looked to redeem his small mistake on Day one. As the day progressed, he once again won each and every lap he raced on his way into the main event once again. As he and the 7 other riders loaded the gate, you could see the desire in Joris eye to end the weekend off on a good note. As the Pro gate slammed down, he once again had a great start and first straightway, once again going head to head with Niek Kimmann. This time, Joris was just behind Niek and would try his hardest to pass him on the 35 second lap around the papendal track. Joris was unable to and would settle for 2nd for the day. While this is a great result, you could see Joris was disappointed. That could be trouble for the order riders come the next stop, as we head to Paris for the 5th and 6th race of the 2019 UCI World Cup season, and with the French crowd behind him, Joris looks to win there once again, as he did in 2018.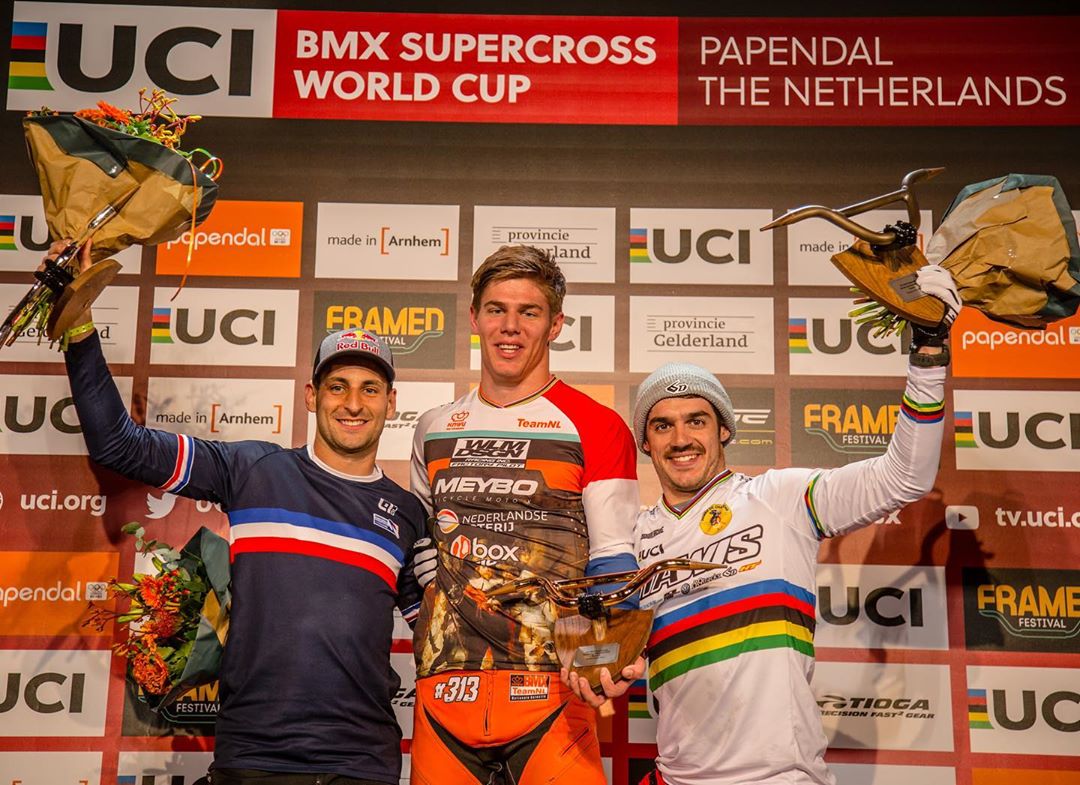 Joris now sits 2nd overall in the race series, and with 6 more races left, its going to be a season long battle for the overall title.
Joris had a chance to show the BMXlive.tv fans his Chase ACT 1.0 Race bike during the Live webcast
The UCI World Cup will now have a short break, until Early June, when the tour heads to St-Quentin-en-Yvelines, France for the 3rd stop. Last year Joris was victorious in France, in front of a wild French crowd. At the French stop, Connor Fields will be joining Joris and race his first SX World Cup of the season.