We are proud to announce the arrival of 2 new products from Elevn Racing:


Elevn Headsets
3 styles – Classic offered in 5 colors, Semi Integrated, and Integrated offered in 2 colors
All new from Elevn Racing is our full line of Ultra light weight CNC'nd Headsets. Offered in Integrated, Semi Integrated, and classic style, the line up of Elevn Headsets feature CNC'd 6061 Alloy Cups with a 7075 Alloy lower slotted fork bearing race and alloy star nut/bolt. All the Elevn headsets feature ultra smooth sealed low friction bearing & low stack heights. The classic headsets come in 5 different colors & the Integrated versions are offered in Black or White.
ELEVN Headset 1-1/8 black $69.95
ELEVN Headset 1-1/8 red $69.95
ELEVN Headset 1-1/8 blue $69.95
ELEVN Headset 1-1/8 polish $69.95
ELEVN Headset 1-1/8 white $69.95
ELEVN Headset 1′ black $69.95
ELEVN Headset 1′ white $69.95
ELEVN integrated headset 1-1/8″ black $44.95
ELEVN integrated headset 1-1/8″ white $44.95
ELEVN semi integrated headset 1-1/8″ black $69.95
ELEVN semi integrated headset 1-1/8″ white $69.95
Elevn Brake adaptors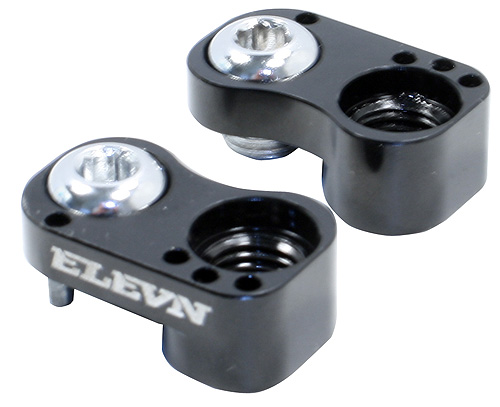 Elevn Racing now offers Alloy Brake Post extensions. These offer help as an alternative to switching frames when its time to switch wheel sizes from 1 1/8th to 1.5 or when your chain length makes it necessary for you to reposition your brakes to properly and safely reach the rim.
Made from CNC'nd series aluminum, the Elevn brake post adaptors provide an extra 16 millimeters of brake positioning, allowing for greater range of rear wheel movement. Include Chromo fixing bolt these come in black anodized only.
Size info: One size fits all frames. The Brake post extension mounts into your frames current brake post mount with the included hard wear.
Weight Specs: 23 Grams
MSRP $24.95