Bogota, Colombia – Round 7 & 8 of the 2022 UCI BMX SX World Cup tour brought together the worlds fastest BMX racers to the final 2 rounds of this years World Cup tour. With last weekends round 5 & 6 events being held at the same location, the riders have had quite some time on this track and have it dialed. So now it would be all about the riders with not only the top skills, but the top mental ability to cap off the season with some great results. As always, Joris Daudet was up to that challenge and Tatyan Lui Hin Tsan was ready as well.
Joris Daudet was flying all day and when the main event came around, he was purely unstoppable. Joris took the hole shot and was unstoppable on the Bogota track, not only having the fastest lap of the day, but taking home the Round 7 World Cup win.
On Sunday, Joris took up on the start of the day from where he left off on Saturday. Joris was flat out the fastest guy on the track in Bogota and he once again made his way into the main event. When the gate dropped on Sunday, Joris dropped the field and never looked back, taking back to back wins for the weekend.
UCI BMX Round 7 Main Event. – Click to watch Joris win the UCI SX World Cup main event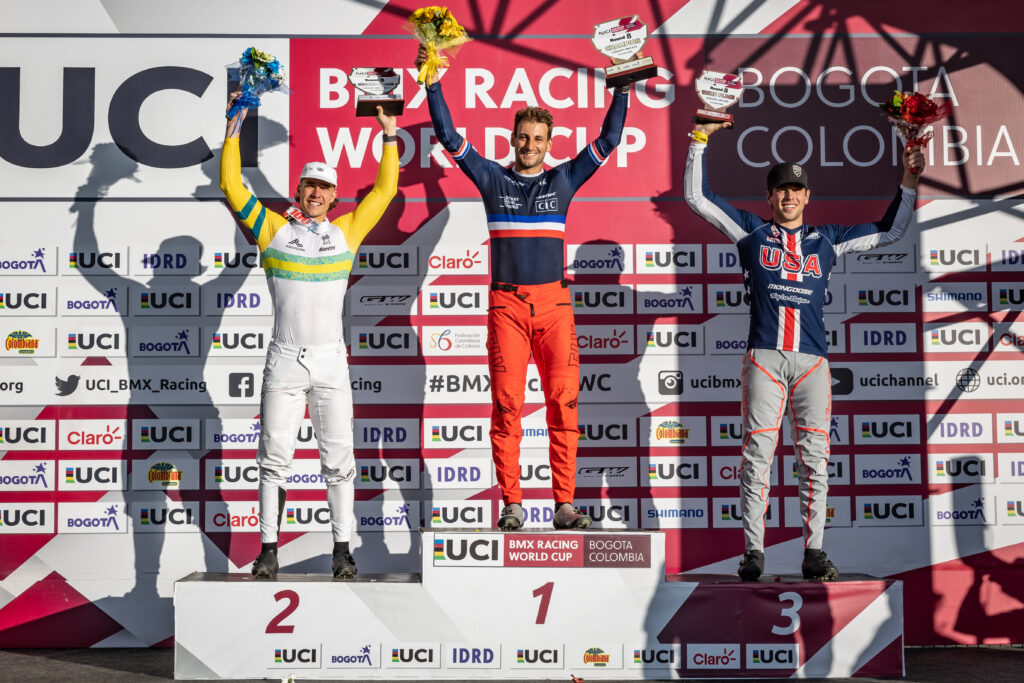 Tatyan Lui Hin Tsan has been a regular on the podium in the Under 23 Class on the UCI World Cup tour and he was once again top 3 on Saturday in Bogota. Tatyan finished up in 3rd place.
On Sunday, Unfortunates Tatyan had a crash in the semi final. But with his consistency races he has had over the season, he was was able to secure 3rd overall for the season in the U23 Class.
With the 2022 UCI World Cup Season a wrap now, Joris will head back to the USA and give a shot at winning his 5th USA BMX #1 Pro titles, as he heads to Oldster, FL next weekend to race the USA BMX series.