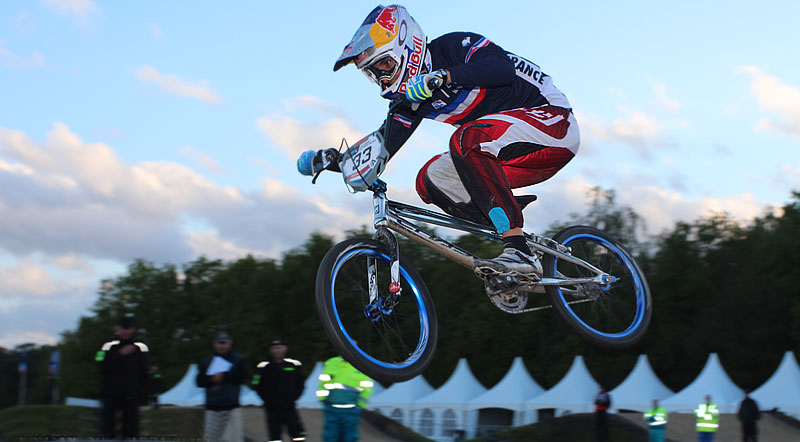 Chase BMX Event Report: UCI BMX Supercross Round #2 – Papendal, Netherlands
The worlds fastest BMX racers traveled to the Dutch Olympic Training grounds in the Netherlands for the 2nd round of the UCI BMX Supercross World Cup.
The Papendal track is known for big challenges with the technical track and weather can always be a factor in BMX, but today was a true test on both the riders and the event organizers. After waiting for almost 3 hours with a delay in the original start time for a safe and dry track for the riders to get onto the track, the riders loaded the gates, did the qualifying motos and SuperFinals and in the end, it worked out for all in attendance.
Romain Mathieu was the lone Chase Factory rider that had to run during the qualifier motos, and a small bobble almost cost him a great run in his first moto. Romain came back and rode strong in moto 2 & 3, and will advance to the 1/8th finals on Sunday, to meet up with teammates Connor Fields and Joris Daudet.
The top 16 riders in the men's class from the 1st World Cup round in Manchester, were advanced info the SuperFinal Time Trial, so both Connor and Joris advanced direct to the SuperFinal. Edzus Treimanis of Latvia had the fastest time originally posted, but was unfortunately disqualified due to not having his transponder attached to his bike. The UCI has a backup system for the timing, but with Edzus not having the transponder on his bike, it was a violation and ended his day.
After the slight confusion, Joris Daudet who had the 2nd fastest lap time at that point, would move him into the top spot overall. Connor Fields was just off of Joris' time and he would finish up 3rd for the night, with Liam Philips in the 2nd place spot.
Joris and Connor both are strong riders in the SuperFinal TT and main events, so it was no surprise to see them finish 1st and 3rd overall for the night.
Joris Daudet was happy with the win and is looking forward to tomorrow's racing, where he, Connor, and Romain will race it out with the 64 fastest Elite men riders going head to head. Things will kick off with 1/8th finals that will be run 3 time, then move onto direct elimination in the 1/4, and semi finals, then going to the main event.
Sunday's UCI BMX Supercross World Cup event will take place as scheduled and you can watch it live on www.BMXLIVE.tv
The Chase BMX Factory Team is proudly sponsored by Shimano, Tioga, Fly Racing, ODI, Kicker Audio, KMC, Elevn, Excess, Insight, Kingstar, Stealth, and G-Form.
Chase BMX is a proud sponsor of the UCI BMX SuperCross World Cup Tour.