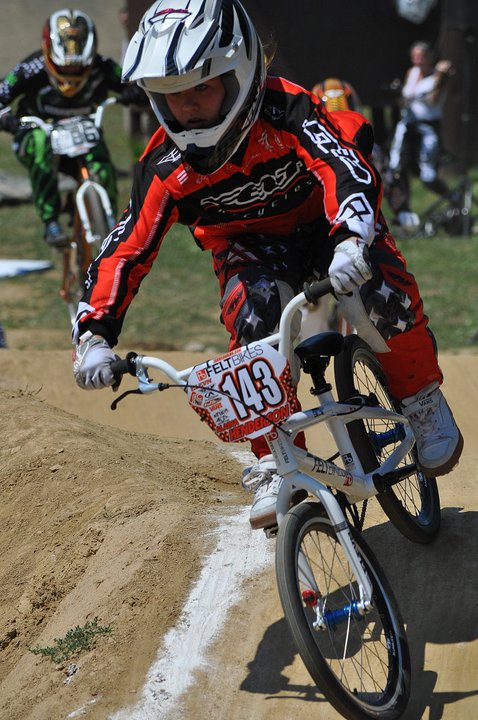 South Park has always been the track to test your metel and this past weekend it proved it once again. The Factory Felt / SC Actionsports team went in to test themselves against one of the gnarliest tracks in the country. The track did take a bite out of us in the name of Meredith Lidstone in the second moto of the weekend Meredith went over the bars down the front straight and face planted causing a laceration over her eye which took 8 stitches to close. Everyone kinows Meredith is as tough as nails and will back soon enough. On a good note Victor Behm 17X/Cr was putting on a clinic over the two pro jumps on both 20″ and cruiser. Victor finished the weekend with two wins on cruiser and a 2nd on 20″. Dylan Perez 18X was going fast all weekend and just could'nt find his way into the main. Anthony Catlow 13X was simply on fire dominating the competition all weekend with perfects both days. Ricky Castro 10x/cr acme all the way in from NorCal just to see what all the hype was about South Park and was very impressive taking wins both days on cruiser and a 2nd on day#1 and winning day#2 on 20″. Gabe Hatem 10x was battling Ricky all weekend on 20″ and swapped wins for the weekend. These two are not only super competitive with each other but are best of friends off the track. Marcus Christopher 8x/cr took on some of the best 8x's and showed why he needs to be recognized as one of the best 8x's in the country. Marcus finished the weekend with double perfects on cruiser and a 1st and 2nd on 20″. Samanrha Brown 15G battled hard all weekend and took home a 2nd on day#1 and a win on day#2 nice job SamWoWW!
The race of the weekend had to go to our very own Alaina Henderson Elite Women who was battling Brooke Crain and was able to STICK a jump pass into the second turn that bought the crowd to their feet! Just about everyone there was convinced that that move was impossible to make without severe consequences and Alaina proved them all wrong. It was an insane move by a very determined talented rider. She went on to win both days.
The Factory Felt/SC Actionsports team kept their streak going with their seventh national team win in a row scoring 323 pts on day#1 and 325 pts on day#2. Big props to the South Park staff and track operator for having the track race ready after a torrential rain fall on friday. The new track design was incredible and the added pro jump coming out of the second turn was crazy!
I would like to thank all our sponsors that help us make this happen…Alan Foster at FeltBMX, Scotty Cranmer at SC Actionsports, Gus at Profile Racing, Ray at Fly Racing, Pete at BRG, RiderzReady, Vans, JohnsonBMX.