We are so proud to have had such great riders starting with our littlest raddest ripper Marcus Christopher 8x/cr who had everyone just shaking their heads all season with his incredible skill set fearless approach to racing. William Parker 10x/cr some where asking "who"? just one of the fastest 9/10 yr old in the country. William was coming back from a bad injury and 2010 which for most kids his age would have been career ending but he was determined to make his comeback and comeback he did…his winning percentage was off the charts and his soft spoken approach was deceiving. Congrats to a great year William. Ricky Castro 10x/cr this kid sweat in red/black and white. No one wore the Felt colors with more pride than RC! He was 2,000 miles away and you could feel his presence at every race. Ricky and Gabe would put on arial shows at every track we went to. I just loved hearing the crowd ooooh and ahhh everytime they were on the track. Thanks RC for allowing me to be a part of one of the most exciting times in your life and congrats on winning the NBL 10x/cr titles AGAIN! Gabe Hatem 11x/cr "love'm or Hatem" it's Gabe Hatem! The only word to describe him is "fearless" he never settled for anything but the win. There wasn't a move he wasn't willing to try on any part of the track against competition that was taller and stronger. What he had over all of them was heart…plain and simple. Many times throughout the season this 4 foot nothing 80lbs of nothing would step up and race three classes for the team at any given national…and for that I presented him the ironman award at the Grands.
Coleman Habib 13x/cr no one and I mean no one has more energy than Coleman…lol. Coleman when he wasn't making my ears bleed would just go out and annialate the competition. Coleman has been with the team now for the last three years and I've watched him improve as a rider at an alarming rate. His foot speed, power and skill set can not be matched! He brings enthusiasim, spirt and most of all confidence to the track everytime he arrives. He has an unbelievable future ahead of him and hopefully he'll let come for the ride. Thanks for a great year of racing Coleman Habib! Anthony Catlow 13x/cr when Anthony came to the team a year ago he was as raw a rider as anyone has ever seen. His gates were "different" for a lack of a better word (horrific). He had no manualing skills. What he did have was power, power and did I say POWER! He worked his butt off developing his skill set throughout the year. His gates got better (still ugly) but very effective….lol. He would go out in front of his home and practice manualing up and down the street for hours. He now manuals with the best of them. It was going to take everything he learned throughout the year plus heart and determination to win the NBL Grands and thats exactly what he did. Anthony put together one of the best front straights in his life and pulled off his dream win this weekend! Congrats Anthony on winning the 13x NBL Grands and taking home the title.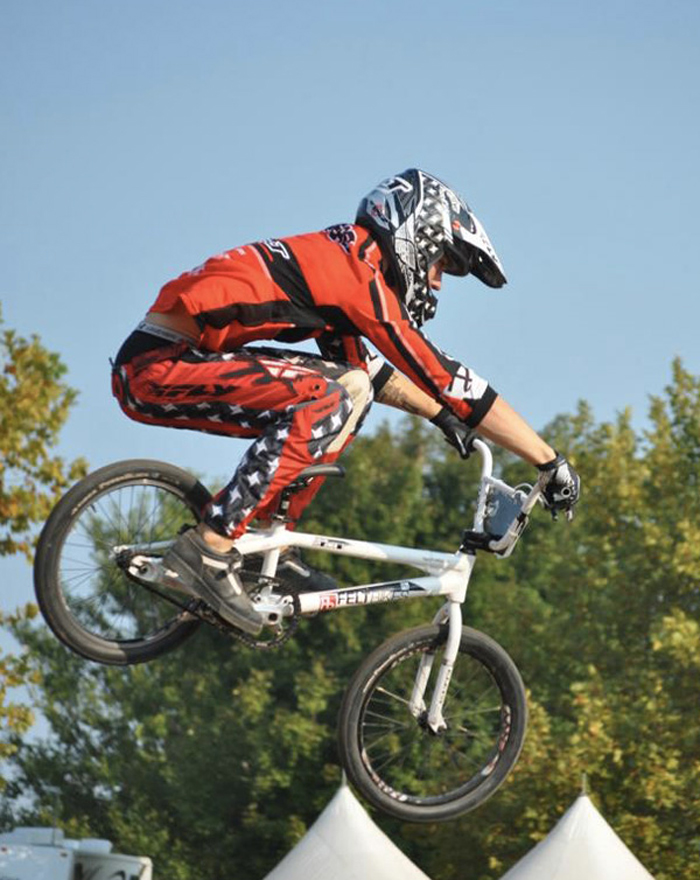 Victor Behm 17x/cr came to us mid season with a a bad boy rep and two tons of skill and "back straight pull". I challenged Victor to change his ways and become the man I know he could be and that he did. He dedicated himself to his craft and got stronger,leaner and meaner. He put on a skills show everywhere we went and started mentoring riders at the local CT tracks. I couldn't be more prouder of him. He has a great furure in the sport and is heading towards the pro ranks in the very near future.
Dylan Perez 18x/cr I'm his biggest fan! Vinny Mannino calls him Mr. Saturday Night…lol. Graduating from HS and starting college this year..where has the time gone! The corners are his home…who could forget the last corner at the Christmas Classic going old school into the corner and pushing off a rider with his foot. Technical bike handling skills forever. I can't be more proud a dad. Thanks for all the memories you give me…I love you son.
Vinny Mannino 19x probably the most talented BMX rider I know. Name one other racer that can compete at a national one weekend and then go out and compete at the Dew Tour the following week? Times up…none! Vinny is a super nice guy with a fantastic future ahead.
Now for the beautiful ladies of Felt. Joey Lynn Henderson 14G fierce is the word that come to mind when I'm talking about JL. Like a true Henderson JL is no stranger to contact on the track. She rufuses to play follow the leader, she's either out in front or finding a way to get there. She came to the NBL Grands this weekend with a big smile telling me that she was "feelin' it" the only other time she said that to me was two years a go when she won the Grands. Low and behold she goes out and kills it this weekend winning what rightfully belongs to her the 14G national title.
Samantha Brown 15G first year on the team and SamWoww did not disappoint us. Sam has some of the best skills in her class and she showed them all off this weekend in Louisville. A great teammate a smile that can light up a room and a determination surpassed by no none. Sam has a great future ahead of her and visiting the Chula Vista training center has definetly paid off.
OK last but not least and believe me there is nothing last or least about this incredible lady Meredith Lidstone 45 woman. Shes been in BMX racing for over 30 years and has forgotten more than I'll ever know about BMX and the history of BMX racing. She's outspoken and at times very controversial but she expresses it with passion for a sport that has defined her as a person. Meredith went out this weekend and tripled at the NBL Grands with wins in class, cruiser and open. I admire her commitment and dedication to the sport she goes out with as much enthusiasm today as she did as a kid over 30 years ago. It was a pleasure and an honor to be your friend and team manager.
Alaina Henderson is the 2011 NBL Elite Womens Champion!
Alaina has been with me for five years now and I've seen her grow up right before my eyes. Tenacity is probably the best word to describe her. She is tough as nails and every bit a girlie girl. I watched her win several amature titles throughout the years and all along I knew she was a very special athlete and a great talented rider. She turned Pro two years ago and has never looked back! This year with all the sanction drama Alaina was able to get to the Grands as the top qualifying Elite Women in the NBL. She was on fire all weekend first in UCI Elite Women transfering to the semi and unfortunately ran into some bad luck and didn't transfer. That didn't discourage her in the least by coming back sunday and not losing a lap the whole day and going on to win the 2011 NBL Elite Womens title! Congrats Alaina…Mady and I couldn't be prouder.
When the dust cleared the Factory Felt/ SC Actionsports team took second place at the Grands and finished second overall for the 2011 season.
Congrats to Rennen/Intense for winning the 2011 NBL National Team Championship.
I would like to thank our sponsors and my friend Alan Foster
at Felt Bikes, Scotty Cranmer at SC Actionsports, Ray Hudson at FlyRacing.com, Pete Dylewski at BRG, Gus Lanziotta at Profile Racing, Vans, Alex Rims, JohnsonBMX Plates.