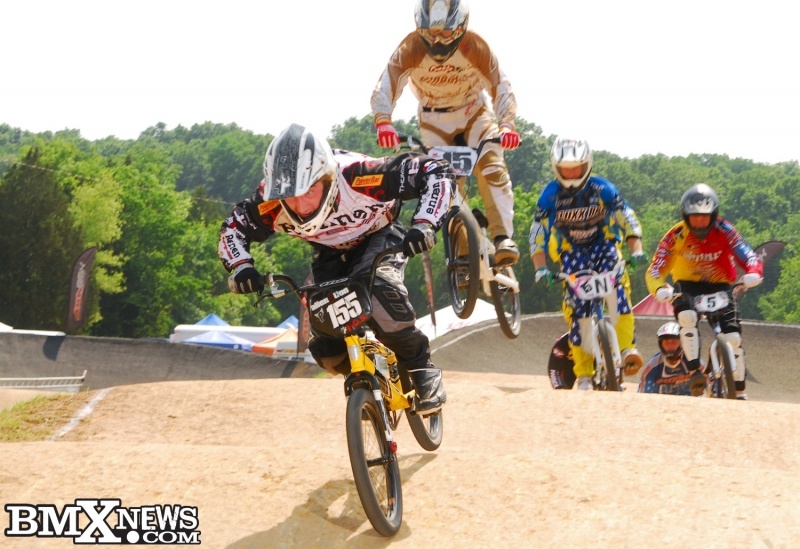 Nashville has always been a "big draw" event regardless of whose schedule it was listed under. Thus it wasn't that hard of a decision in skipping Bakersfield and attending Nashville. This decision also gave team rider Max Egdorf an additional week to heal from a broken scapula and collar bone suffered at the Winter Nationals. Team Rider Gavin Freewalt was also on the DL with a broken bone and made his return in Nashville. Both riders fared exceptionally well in their returns after an extended layoff. When the dust cleared Rennen/Intense had scored a decent 202 on day 1, following that up with a nice 207 on day 2 in Factory Team competition for wins both days. Obviously we weren't the only team who thought Nashville was worth the trip, as ten factory teams signed up both days. Here is how your favorite team rider fared:
Austin Loebe (Junior men-17/18x) – Scored a pair of seconds on day 1, day 2….. no comment.
CJ Fisher (16x/cru) Participated in "Excellent Adventure" four-man 2400-mile road trip. One main event crash, and 3 good main finishes for the weekend.
Gavin Freewalt (8x/7-8 open). Pulled an open win, and a nice second in class on day 2.
Shawn DiPrete (36-40 x/cru) – All aces for the ring leader of the road trip. Backing up all his "talk" of late.
Max Egdorf (19-27x) Fared quite well for his first race back from injury, pair of 2nd's in the ultra deep 19-27x class.
Nicole Mitchell (9 girls) Ageing up, no problem…. 1st both days in 9 girls.
Cam Moore (13x) This kid is a beast! Big class win on day 2 after falling on day 1. Some good open finishes also.
Devon Yeager (10x) Recovered from a subpar main finish on day 1 for a strong second on day 2
Courtney Applewhite (Elite Women) Back home in NC now that school is over and working hard on the BMX. 8th main event finis on day 1.
Will Murray (Vet Pro) – Worked his way into the main event on day 2, in a class that now may even be faster than "A" pro.
Up next for the squad is a big team money showdown at Trilogy Park in Pottstown, PA where the team will conduct their first clinic of the season on Friday the 27th of May. Followed up with another "burner" of a road trip to Rockford, IL.

Rennen Design Group (www.rennendesigngroup.com) makers of the finest gears, chain rings, cogs, and the ultimate training tool "G-Cog"!
Intense BMX (www.intensebmx.com) makers of the ultimate racing frames and tyres!
Co-sponsored by: Alienation (www.alienationbmx.com), Black Crown designs (www.blackcrownbmx.com), Elevn Technologies (www.elevnracing.com) , Finish Line (www.finishlineusa.com), FLY (www.flyracingbmx.com), Johnson BMX Plates (www.johnsonbmx.com), Kingstar Components (www.kingstarcomp.com), KMC (www.kmcchain.com), ODI (www.odigrips.com), PowerBar (www.powerbar.com), Profile (www.profileracing.com), Riderz Ready(http://riderzready.com), SINZ (www.sinz-racing.com), THE (www.the-industries.com), and Thomson (www.lhthomson.com).