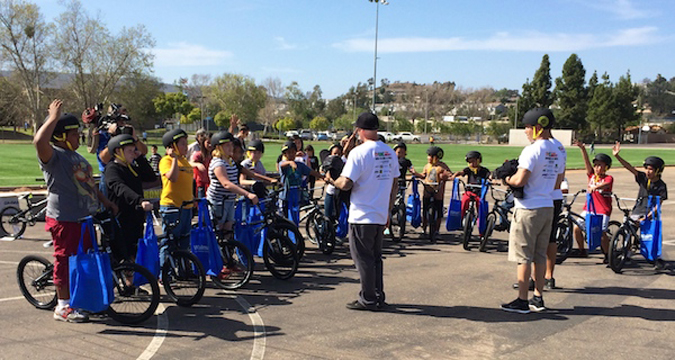 Ride to End Obesity launches at Bernardo Heights Middle School in Rancho Bernardo. An innovative nutrition and cycling program with Five-time BMX World Champion, Dale Holmes, and his Professional BMX Race Team to encourage young people to be healthy and stay active
What: The Ride to End Obesity Program
It's an interactive 90 minute nutrition and cycling-based program offered as part of the Poway Unified School District's, After School Education & Safety (ASES) program, designed to offer education, literacy and enrichment activities. Students will engage in a discussion with professional BMX racers on their eating and exercise habits and discuss bike and street safety with the ultimate goal of encouraging young people to make better food choices, to stay active and be healthy. Visual: Students will have an opportunity to ride bicycles though a staged obstacle course on site at the schools.
When:   Wednesday, January 21, 2015
                1:30p.m. – Welcome & Introductions
                1:40p.m. –Begin Nutrition Presentation
                2:00p.m. – Athletes discuss bike and street safety & the importance of staying active as well as the components of BMX Racing
                2:15p.m. – Students are assigned safety gear and bicycles – riding through the obstacles begins
Where:      Bernardo Heights Middle School
                     12990 Paseo Lucido – San Diego, CA 92128
Who: Dale Holmes Racing
Dale Holmes is a British Hall of Fame recipient and Five-time BMX World Champion. With more than 30 years of experience in the BMX racing industry, Dale Holmes launched Dale Holmes Racing in 2014 with an international BMX race team (Chase/Stay Strong), the Ride to End Obesity Program to encourage young people to be active and stay healthy, A BMX Pro for a Week Summer Day Camp experience offered through both the Mission Valley and Toby Wells YMCA facilities, and a nationwide BMX Clinic Tour.