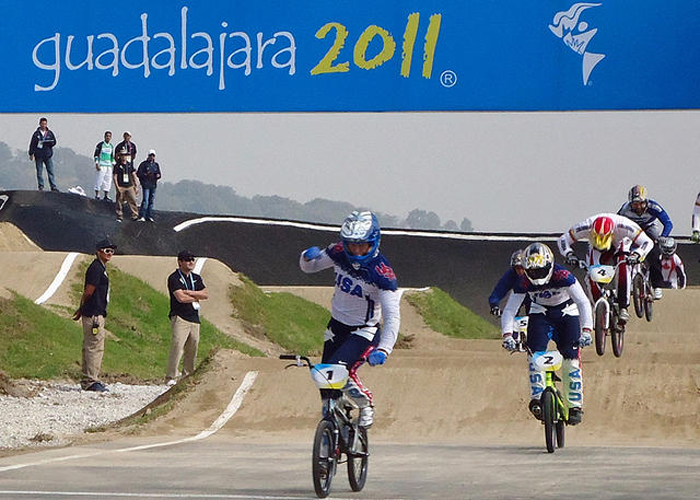 Connor Fields wins Gold and Team USA claims three of six BMX medals at Pan Am Games.
Fields takes gold and Long silver at the Pan Am Games. Of the six available BMX medals won Friday at the Pan American Games, Team USA BMXers scored three. Connor Fields (Henderson, Nev.) led the men's team with a smooth final ride, finishing in 34.245, for first place at CODE San Nicholas. Fields was followed by teammate Nic Long (Lakeside, Calif.) who crossed the line in 34.907 for the silver medal.
"When I crashed early on in the competition, I really had to dig deep to finish strong in the final," said Fields who was cheered across the line after crashing in the second qualifying run due to a busted bike chain. "It helped wake me up."
Fields, ranked No. 1 in the overall UCI rankings, qualified to the final after winning the first and third qualifying run as well as his heat in the semifinal.
"This win felt great, especially because the doctor who fixed my knee this March, Steve Coupens, is here," said Fields. "He's become a huge part of my life, and it was awesome to win with him watching."
Silver medalist Long, ranked No. 2 in the overall UCI rankings, arrived to the Pan American Games with gold medals from both the 2008 UCI event in Salt Lake City, Utah and 2010 UCI SX in Chula Vista, Calif.
Andres Jiminez (Colombia) took the bronze medal in the men's race.