This weekend, the UCI BMX Supercross is holding its 3rd round of the 2013 World Cup tour in Papendal, Holland. Saturday, time trails were held to take the top 64 Elite Men and top 32 women info the SuperFinals on Saturday night.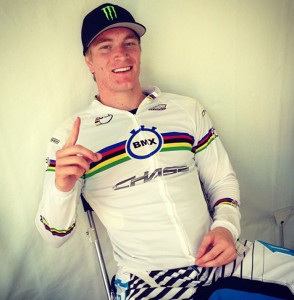 Chase BMX Elite rider Connor Fields had a strong practice leading up to the Time Trials. Connor was the last rider to go, as the current leader of the Elite Men on the World Cup tour, but 2 small mistakes on the track held him back to 2nd overall. With the top 16 moving onto the SuperFinal, it was down to the SuperFinal run to decide the days champions.
When the gate dropped for Connors SuperFinal run, he was spot on near perfect and he had the fastest lap on the Papendal track, taking the win for the day in the SuperFinal.
Watch for Connor and the rest of the Worlds fastest BMX Elite riders on Sunday as they go head to head when the race kicks off on www.BMXlive.tv