Connor Fields, Joris Daudet, Stefany Hernandez, Anthony Dean all rode strong and into the main event at The UCI BMX World Cup Finals in Rock Hill, South Carolina on a rainy Saturday night. Connor would place 3rd, Stefany 2nd, capping off a great 2015 World Cup Supercross season. Anthony would finish 5th and Joris in 8th, after a crash.
Connor and Joris head up the rainy start ramp in Rock Hill, but not even the bad weather could dampen the skill and speed of the duo, as they both made their way into the main event at the World Cup Finals.
Joris Daudet rode strong all night, into the main event, where he battled his way to the front of the pack heading into the last turn. Unfortunately, he was bumped off the track and would have to settle for 8th for the night. The 2015 UCI BMX Time Trial World Champion was dejected, but was able to walk away and finish the season off for the UCI BMX SX World Cup tour with another main event.
Stefany Hernandez rode an great race, leading the lap in the main event from the first turn to just inches before the finish line, where Marian Pajon was on a mission and passed her just at the line. Stefany finished 2nd for the night and 2nd for the overall UCI BMX World Cup season, capping off an incredible season!
Connor Fields rode like a man possessed at the World Cup finals and could be seen out front just about every lap he did. When it came main event time, Connor took lane 8, trying to cash in on the UCI SX Double Dice promo and had a great start, just sitting back in 2nd and 3rd for most of the lap. As it usually is in the Elite Mens main event, riders were making moves the entire lap, and when the riders crossed the line, Connor wound up 3rd for the night, propelling him to 4th overall for the 2015 Supercross season overall.
Stefany Hernandez finished 2nd for the night and for the 2015 UCI BMX Supercross season.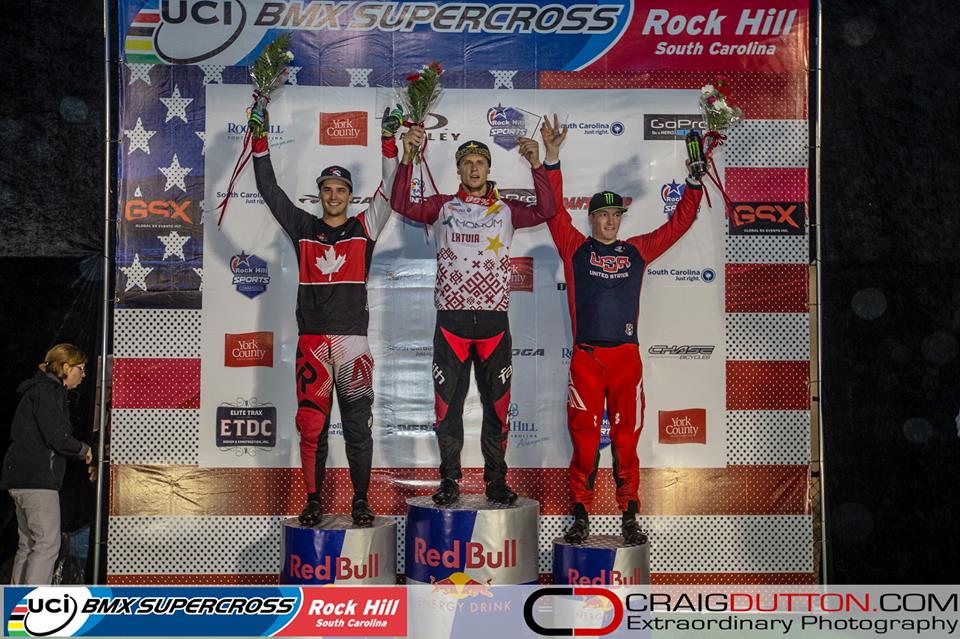 Connor finishes up in the main event with a 3rd and moved up to 4th overall for the 2015 UCI BMX Season.
As always, thanks to the team sponsors Shimano, Fly Racing, Tioga Bmx, G-Form, Vans, ODI, KMC, and Kicker for all the support.