Connor Fields came into the NBL Grands with just one Domestic Pro Race as a Elite/AA Pro on the books and was looking to bring his success from the UCI Supercross & World Championships to the USA. With the determination of being a top pro in all forms of BMX racing, Connor has worked hard to overcome both injury and lack of riding/training to comeback to become one of the strongest American BMX racers in a short time.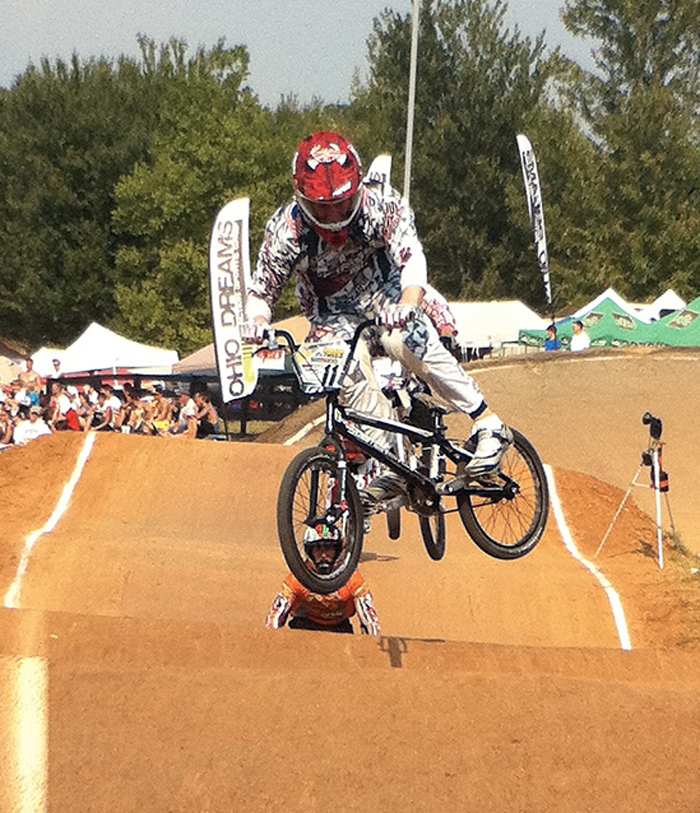 As things kicked off for the Elite riders on Friday night, it was evident that Connor brought his A Game to Louisville, as he was out front in all of his motos and made his way into the main event on Friday night. As the gate dropped for the main event, Connor went to the top half of the chase for the top spot, but it was an all star battle with Sam Willoughby and Maris Strombergs batteling it out for the win. Connor was just behind them, racing head to head with Joey Bradford and would settle for 4th for the day.
On Saturday, the racing was just about as hot as the 101 degree weather in the Louisville area. Once again, Connor was out front all day and again made his way through the 1/4′s and 1/2 to make the main event. With this being the last NBl national for the Pros, everyone wanted to win, but with the addition of ABA Pro points on the line, some must have been hungrier than others. Connor was just off the pace going into turn 1 and would back off just a it as the battle was insane. Connor would wind up 5th for the day but overall having a great weekend, making both main events, and giving the Chase BMX fans just what they wanted; Connor in the Elite main both days and to see the Chase BMX RSP 1.0 frame at the races!
Chase BMX is proud to supported by Fly Racing, Shimano, Kicker, Thomson, Excess, Elevn, Tioga, Insight, Kingstar, and ODI