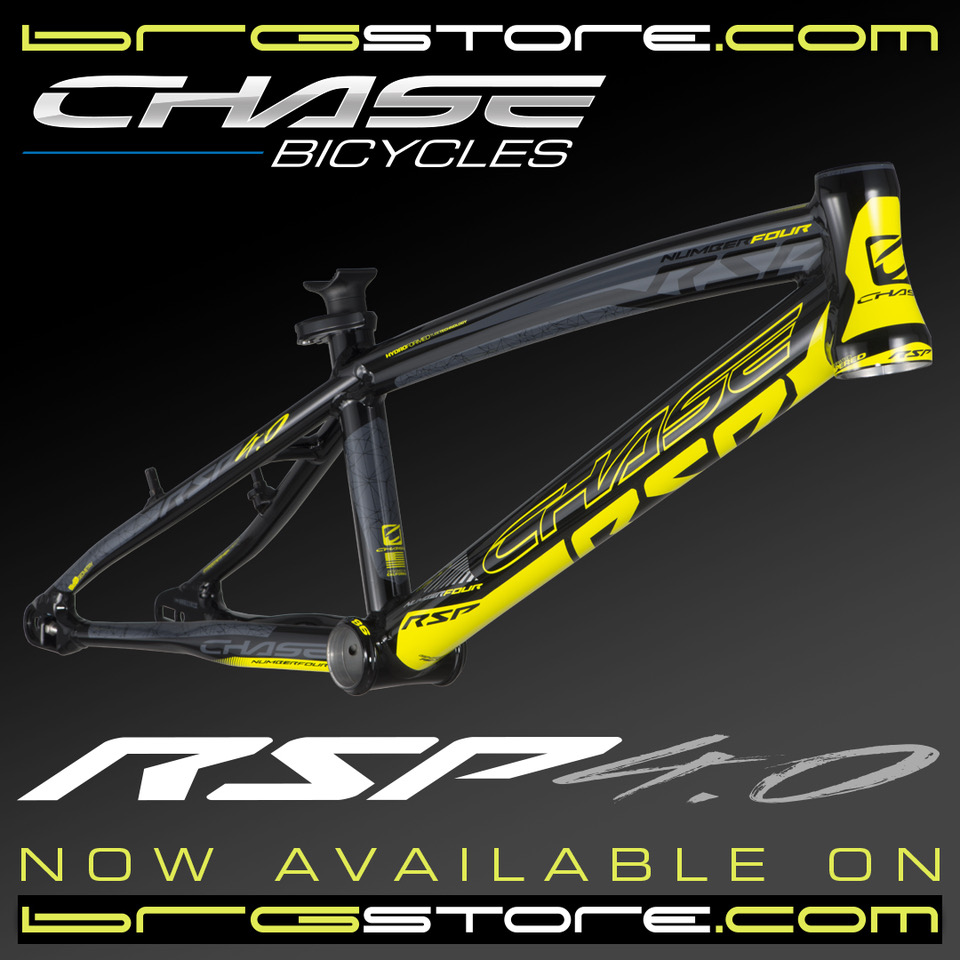 We are excited to announce that the all new CHASE RSP 4.0 Frames are now in stock!
Check over at BRGstore.com to see what is left in stock or ask your local dealer to order you one today!

The CHASE RSP 4.0 starts off with the Olympic and World Championship geometry that Chase Pro Riders Connor Fields and Joris Daudet have been winning on for years. The triple butted tubing keeps the weight down and the strength at an Elite level. The Aero Seat Post/Clamp system and the internal brake cable give the RSP 4.0 a clean, factory look, to match the all new graphics and colors!
But here is where the RSP 4.0 gets really exciting – with the addition of new technical advancements on the Expert XL and larger size frames. These include a new enclosed dropouts with integrated 10mm (3/8″) chain tensioner system, a 1-1/8″-1.5″ tapered head tube, a press Fit BB86 Bottom Bracket, and the RSP 4.0 has been specifically designed to work with 120mm Disc brakes or traditional V brakes, with the optional ELEVN Disc Brake adaptor and 120mm Disc. For the RSP 4.0, we are excited to offer 2 new frames sizes – XXXL and Expert Cruiser. Also, the RSP 4.0 Frames are delivered to you with the 27.2 Aero Seat Post and Seat Post clamp and no additional cost!
The Mini, Junior, and Expert sized frames are 200 grams lighter than the RSP 3.0 and also include the 25.4 Aero Seat Post and Seat Clamp. These frames also feature a traditional Euro BB, Open Drop out design, and a standard 1-1/8″ intergraded headtube.
Put this all together and you get the best Alloy BMX frame ever created.
CHASE RSP 4.0 FRAMES ARE OFFERED IN 14 DIFFERENT SIZES WITH 2 NEW SIZES
11 OPTIONS IN 20″ FRAMES :
Mini, Junior, Expert, Expert XL, Pro, Pro+, Pro XL, Pro XL+, Pro XXL, Pro XXL+, and Pro XXXL
3 OPTIONS IN 24″ FRAMES:
Expert Cruiser and Pro or Pro+ Cruiser
INCLUDED ON EACH FRAME
MINI, JUNIOR, EXPERT FRAMES :
– Aero 25.4 Seat clamp and seat post
EXPERT XL AND ABOVE FRAMES:
– Aero 27.2 Seat clamp and seat post
– Chain tensioner system