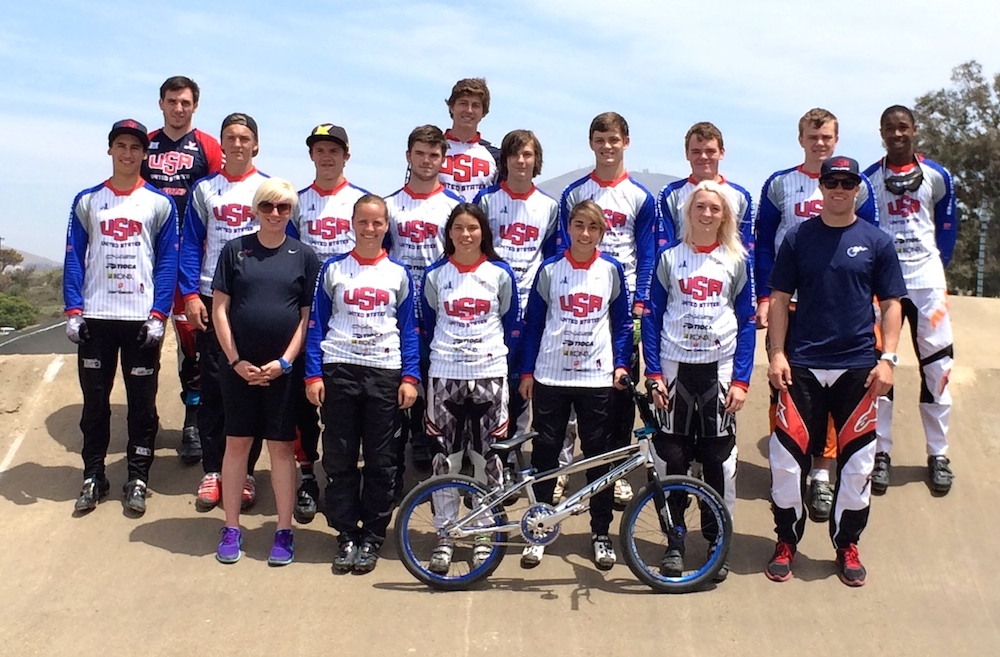 USA Cycling BMX Development Camp – Chula Vista, CA May 31 – June 7, 2014
Chase BMX and Tioga are proud to once again partner up with USA Cycling for the BMX Development Camp series. The camps are held at the USA Olympic Training center in Chula Vista, CA, where the USA Cycling BMX program is headquartered. With the riders qualifying through the USA BMX race series, they are then given the opportunity to attend the OTC for the Camp and learn from some of the best in BMX on what the transition is like from Amateur BMX racing to Pro level Supercross racing and training.
The riders attend seminars about Training, Nutrition, Sports Marketing, Social Media, Bike Maintenance, and Weight Training. Riders are tested to get base line results to see what they need to improve on the become a better BMX rider. The riders then ride on the 2 Supercross style tracks at the Chula Vista facility with the major focus on the Beijing replica track, as well as 1 day of riding on the advanced SX London replica track. At the end of the camp, the riders are put through a race simulation on the Beijing track to test what they learned. The camp also serves as a talent ID camp for the coaches to find potential riders to be invited back for more advanced camps in the future. The riders were also taken on a field trip to the Oakley world headquarters, where they were given a tour of the facility and spoken to by Oakley Sports Marketing guru Steve Blick.
Tioga and Chase both offer product support as well as put together a goodie bag of items from Tioga and Chase BMX team sponsors for each camper in attendance. Items included a set of Tioga PowerBlock & PowerBand S-Spec tires, Insight Number plate, Limited Edition USA Patriot ODI Grips, Kicker Headphones, Shimano products, and more. Pete Dylewski from Chase BMX and Tioga added "We are excited to help give back to USA Cycling and do whatever we can to help out with the future stars of BMX racing. Its exciting to watch the progression of the sport, the riders at each camp, and give any advise or product support we can to give the riders every advantage we can during each of the camps."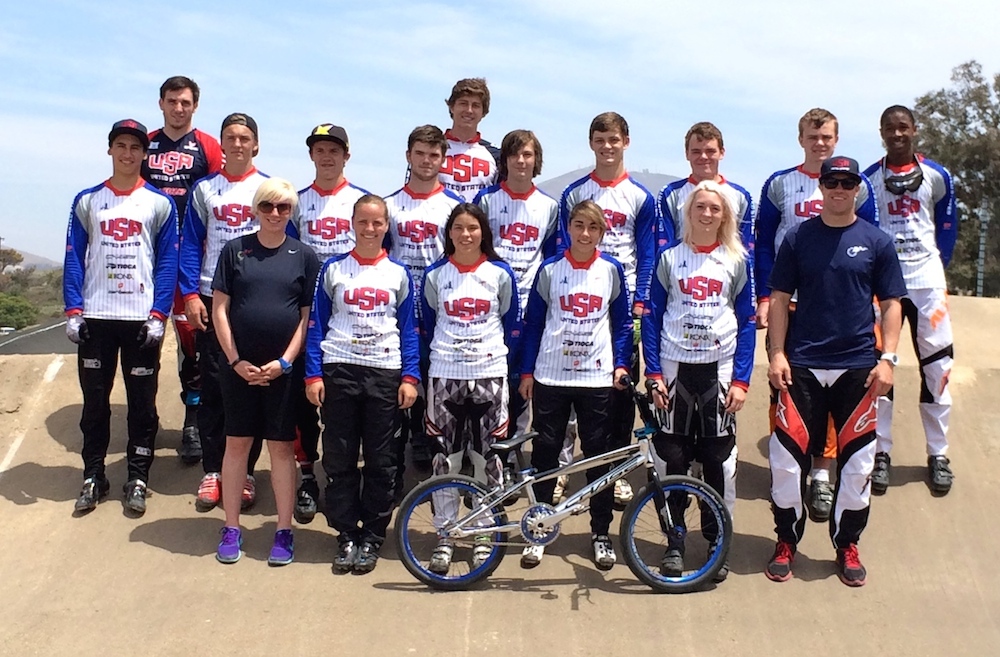 USA Cycling Development Coaches – Arielle Martin-Verhaaren, Jonas Harmon, James Herrera, and Guest rider instructors: Barry Nobles, Colin Hudson, Sean Gain, Shealen Reno, Justin Posey, and Jordin Miranda.
Development riders in attendance: Brian Ensey, Chrystofer Davis, Cole Acord, Colin Whittington, Devyn Willey, Dougie Butcher, Jason Boyle, Justice Gagnon, Justice Richmond, Kelsey VanOgle, Kit Bjerk, Michael Boyle, Michael Gonzales, Shayla Blackmore, Trevor Meegan, Veronica Laughton.
For more information on the USA Cycling BMX Development camps, please visit http://www.usacycling.org/usa-cycling-bmx-development-series.htm or listen to a recent podcast on BMXnews.com http://www.bmxnews.com/2014/05/podcast-usac-development-program/ There are 2 more camps for the 2014 year, visit the USABMX.com website for points tracking info for the series http://www.usabmx.com/site/bmx_points?points_type=USAC&section_id=48
About Chase BMX: Chase BMX frames were created to bring the BMX racing world a new standard for the Elite level of BMX racing frames. No gimmicks, just straightforward technological advancements to offer you the lightest and stiffest frames. These advantages allow you to get all the human generated power to the ground, and give you the biggest advantage offered from any current BMX frame – The winning advantage. www.ChaseBicycles.com
About Tioga: Tioga is one of the originators of the BMX racing tires. Starting off with the Comp 3, Tioga has lead the industry for almost 30 years with the worlds best tires. Tioga now Produces the PowerBand and PowerBlock – The ultimate BMX racing tires, designed to efficiently transfer pedal power and other rider inputs into lateral motion. In short, you'll roll faster with less wasted energy. The S-Spec version utilizes Tioga's thinnest sidewall for maximum suppleness and weight savings. Size for size, the S-Spec are the lightest BMX tires in the world. www.TiogaUSA.com
About USA Cycling: The vision of USA Cycling is to make the United States of America the most successful country in the world of competitive cycling.
The mission of USA Cycling is to achieve sustained success in international cycling competition and grow competitive cycling in America while delivering an exceptional customer experience. For more info, please visit : http://www.usacycling.org