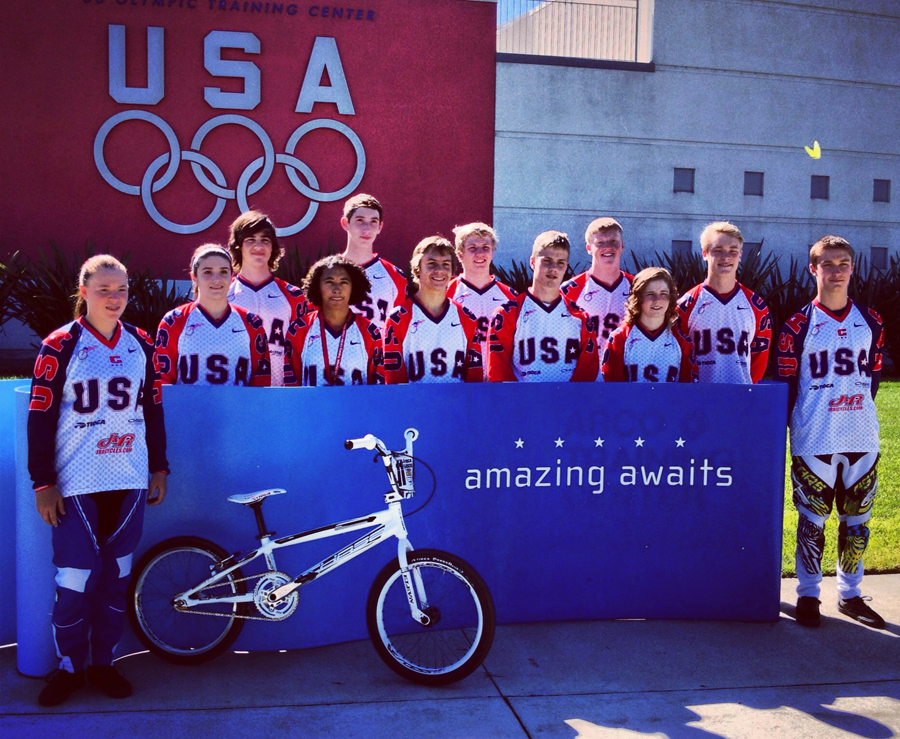 Chase BMX is a proud supporter of the USA Cycling Jr Development Camp series that is held at the Chula Vista, CA Olympic Training Center. 12 riders are taking part of this weeks camp, the last of the 4 week long camps for the 2012 year.
The Summer Games countdown clock in the athlete center at the US Olympic Training Center/Chula Vista has been re-set for a countdown to Rio 2016 (1387 days to Opening Ceremonies). Sounds like a LONG time from now, doesn't it? But it will undoubtedly pass in the blink of an eye, just as the time between Beijing and London did.
Getting the next crop of "hopeful-Olympic-hopefuls" in the swing sooner, rather than later, is a prudent thing to do. And USA Cycling is not waiting. The final Jr. Devo camp of 2012 convened on Monday with 12 athletes. Some will be age-eligible for 2016, and some will be looking toward 2020.
Here's what the roster looks like:
Josh Banuelos, Kavin Bradner, Matt Chism, Savannah Davis, Carlie Ferree, Colin Hudson, Rachel Mydock, Taylor Stephens, Alex Strand and Max Turk
J&R Bicycles Captain's Jersey Recipients:
Shealen Reno (photo left) and Sean Gain (photo right)
Traditional coaches, Jerry Bradford and Brian Fell are on hand to provide one on one coaching, and an overall picture on how things work when you decide to go down the path of becoming an Olympian.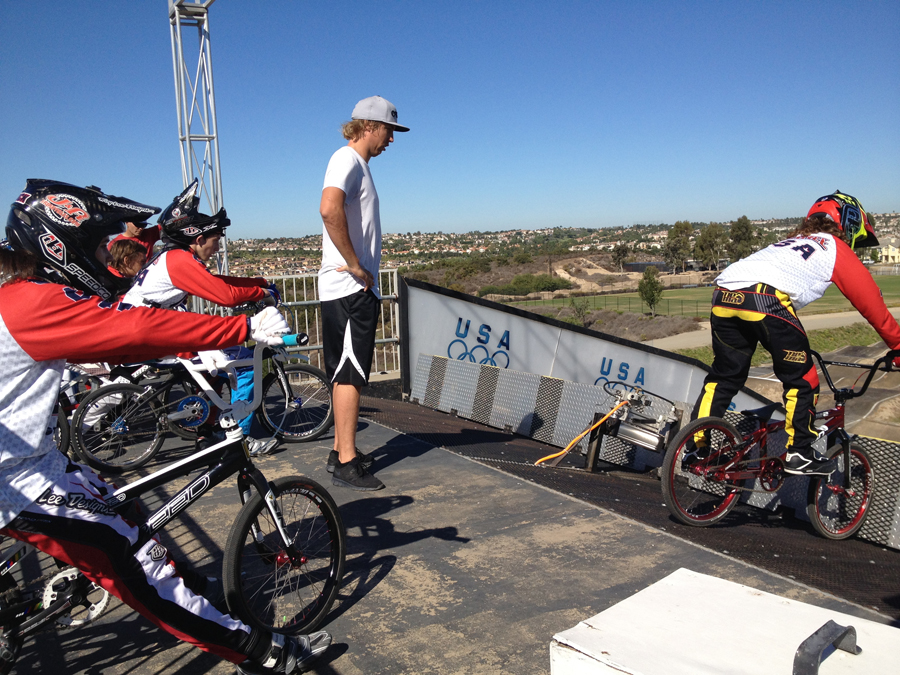 Speaking of Olympians, Mike Day was on-scene this week as well, as a guest athlete coach (above). MDay can give the riders a perspective that only a handful of Americans can give. Also in the role of "Athlete Coach" for this camp is 2012 US Jr. Men National Champion, Nick Koehler. So, a pretty stacked coaching opportunity.
Over the five days, here are some of the activities, both on track and off, that the "lucky dozen" is getting into
Riding the Pump Track
Riding the USA BMX Track
One on one meetings with the coaches
Learn the Proper way to do a Dynamic Warm Up
Ride on the SX track with one on one instruction by coaches
Guest speaker for recovery
Guest speaker for nutrition
Guest speaker for weight training
Timing on sprints and gate start/kink timing/90-foot line timing
Vertical jump testing
Fun activities such as a ping pong tournament, Movie night, field trip
Full-Lap time trial on the SX track
Mock SX race
Evaluation/Report cards at the end of the camp
Suggestions/Training program opportunities to improve
Pete Dylewski is in attendance to talk to the riders about BMX Sponsorship, How to conduct yourself as a future Pro rider, proper usage of social media, and help riders with questions on bike set up and products from Chase BMX and Tioga BMX.
Pete put together a killer goodie bag for each rider, with items donated by Oakley, Fly Racing, Tioga, Insight, Kicker, ODI, and USA BMX. Riders also are offered a set of Tioga Tires, if they have no tire sponsor obligation.
Pete says he also uses the camps as an opportunity to scout for up & coming talent, and says it helps when making future sponsorship decisions and earmarks. It's great "networking" for the riders to be exposed to the industry side, as well as the "I'm fast" side.
It is a packed week, and one that moves these riders from the "NAG rider" stage of their careers to the next level on the BMX ladder of stardom.
The dates for the 2013 Jr. Development series have not been announced yet, probably pending the release of the 2013 USA BMX National schedule. We will bring them to you, once we have them.
Big props to USA Cycling, Nike, Chase Bicycles, Tioga BMX and J&R Bicycles for sponsoring the program, and keeping the US prospects for Rio 2016 and beyond close in our minds.