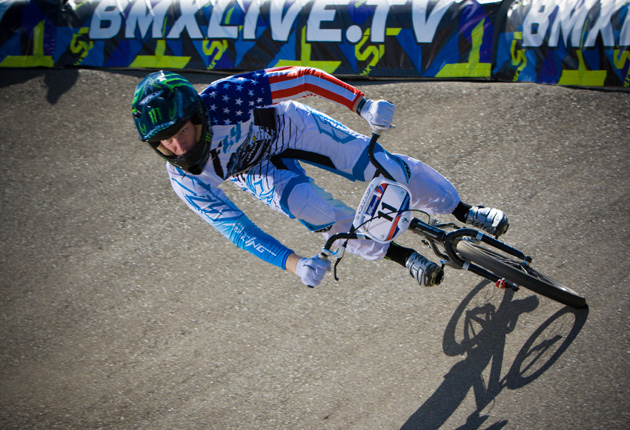 2013 marks the 10 year anniversary of the UCI BMX Supercross World Cup, which has revitalized BMX with its exciting and spectacular Supercross format. The UCI BMX Supercross World Cup served as the main qualification events for the 2012 Olympic Games and will continue to be the world's leading BMX racing series leading up the 2016 Olympic Games in Rio De Janeiro, Brasil.
Winning combination
"It's definitely an honor teaming up with Chase Bicycles, the brand created by legendary racer Christophe Leveque" said Johan Lindstrom of GSX Events Inc. "The no-gimmick-just-advanced Chase RSP 1.0 BMX frames certainly reflects the same approach Christophe had winning multiple UCI World Championships, ABA and NBL National titles. With Chase Bicycles and Connor Fields now winning multiple World Cup's last year, the domination continues." noted Johan Lindstrom.
"A great way to further develop the brand globally"
"We are very excited to partner up with the UCI Supercross World Cup series and have Chase as the first BMX Bicycle brand on board to do so. I see it as a great way to further promote the brand at the Elite level of the sport, added to our USA BMX effort, world wide." noted Christophe Leveque. "Connor has put the Chase brand out in front of the World Cup the past two years and now, BRG as a company, will back his efforts up with the support of the UCI Supercross series. We have some excting things to come from Chase Bicycles in 2013 and the World Cup is a great place to show that to the world."
"We're working hard to make the UCI BMX Supercross World Cup a great promotional platform for the BMX industry and it's cool having Chase Bicycles onboard embracing the oppurtunity to grow the sport globally" adds Johan Lindstrom.
Global SX Events, Inc.
Global SX Events Inc. (GSX Events) is the premier promoter of professional and amateur BMX events internationally. On behalf of the International Cycling Union (UCI), GSX oversees the general management of the UCI BMX Supercross World Cup, for which it will holds the organization and marketing rights. The GSX team represents the leading edge of BMX events organization and have been instrumental developing the BMX Supercross World Cup series. GSX Events Inc. is headquartered in Gahanna, Ohio, USA. GSX Events Inc main stake holder is StrateSphere LLC.
http://www.gsxevents.com
Union Cycliste Internationale
Founded in 1900, the Union Cycliste Internationale (UCI) is the world governing body of cycling. Headquartered in Aigle, Switzerland, the UCI is the International Federation of Cycling uniting the National Cycling Federations of 178 countries.
http://www.uci.ch
The 2013 UCI BMX Supercross World Cup calendar :
19-20 April 2013 Round 1 Manchester, Great Britain
10-11 May 2013 Round 2 Santiago Del Estero, Argentina
15-16 June 2013 Round 3 Papendal, Netherlands
27-28 Sep 2013 Round 4 Chula Vista CA, USA