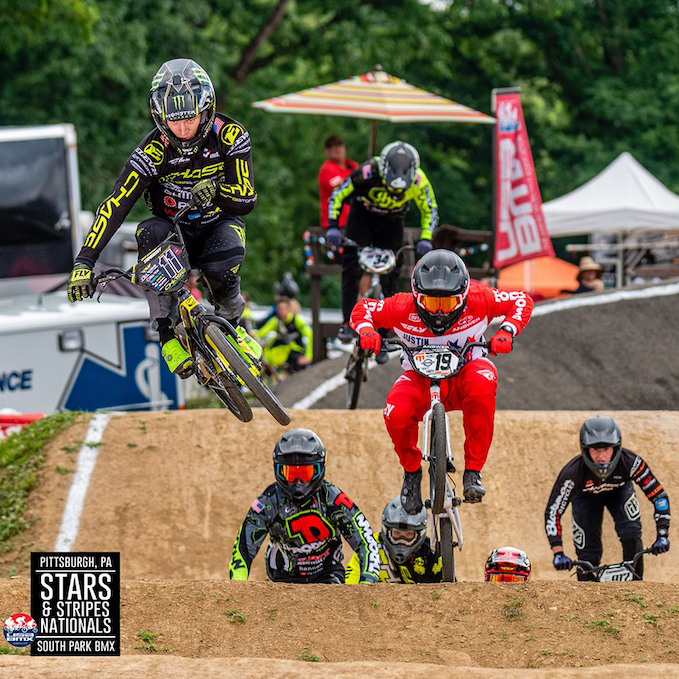 Connor Fields headed to Stop #9 of the 2019 USA BMX Pro Tour this past weekend in South Park, PA.
South Park was at one time one of the fastest and biggest racks on the BMX circuit. Modern day South Park is more of a test of consistency and battling the weather conditions.
On Day 1 of the Star and Stripes National, the Pros would have a 3 hr rain delay to deal with, but once the racing did get started, Connor Fields was trying to dry South park out, with his on Fire riding style!
Come main event time, Connor entered Gate 1, got ready, and when the gate dropped, he was out front and never looked back. Connor would take the Day 1 win wire to wire without a hint of another rider, as seen in his GoPro Video from the main event below.
Day 2 was a lot like the day before, as Connor was once again unstoppable in South Park, as Connor went on to take the win every lap he races on the track, including the Main event once again. #winwithchase #winwithconnor
Connor now heads off to Europe to prepare for this years UCI BMX World Championships in Zolder, Belgium. The UCI is no stranger to Zolder, as it has hosted the World Championships just 4 years ago, as well as they have hosted numerous UCI BMX Supercross World Cups. Connor has won there before as well, so with is from on top at the moment, it should be a great all out battle of the Worlds best riders at this years UCI World Championships.
Chase BMX is proud to have some of the best sponsors in BMX today. The Chase team is proudly sponsored by Fly Racing, Shimano, Razor, IKON, Tioga, ODI, BRGstore.com, Elevn, Vans, KMC Chains, Tangent, Pro Tracks, Insight, Excess BMX, and ONYX. #winwithchase #chasebmx #act1 #rsp4