Stop 6 of the 2019 USA BMX Pro tour took the top riders of the sport to Nashville, Tennessee. Nashville is another epic USA BMX track that has deep history for Pro racing, not only with one of the fastest first straightaways in BMX, but one of the smoothest and most loved tracks in the USA.
Joris Daudet has been looking fast at every race this season and day 1 of the Music City Nationals was again another time for him to shine in the Pro Class. Winning all his laps on the way to the main event, Joris would take the holeshot and the victory, capping off another great day on the USA BMX tour, with his 5th win of the 2019 season.
On Day 2, its was much like day 1, as Joris once again was out front all day. When he lined up for the main event, it would be his teammate Connor who would try to Chase him down, but it would not happed, as Joris would take his 6th win of the 2019 season!
Connor Fields took to the track in Nashville as well, looking strong on Day 1 and with such a fast and tightly funneling first straight away in Nashville, its an all out drag race to get to the front. Connor had a god gate, but was held up just so sightly, keeping him mid pack and he would place 5th on Friday.
On Day 2 of Pro racing, Connor came back with the focus to win and he did so all day. As he lined up for the main event, it would be an all out battle to the first turn, and it would be Connor and Joris doing so. Joris would Edge out Conor into the turn, but Connor was on Joris' rear Tioga tires the enter lap, but would need to settle for 2nd this time.
Another great weekend for the Chase BMX Pro team.
Voir cette publication sur Instagram
Chase BMX is proud to have some of the best sponsors in BMX today. The Chase team is proudly sponsored by Fly Racing, Shimano, Razor, IKON, Tioga, ODI, Elevn, Vans, KMC Chains, Tangent, Pro Tracks, Insight, Excess BMX, and ONYX.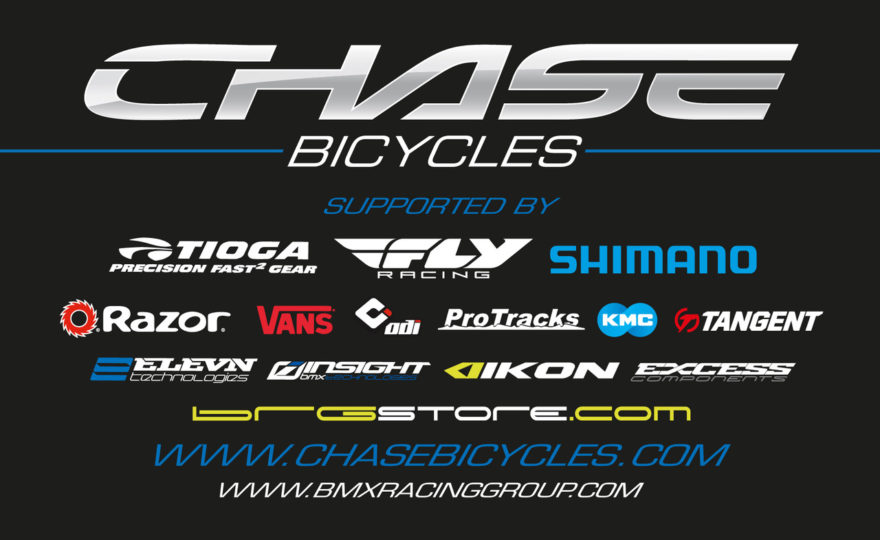 Chase BMX is a division of The BMX Racing Group – BRGstore.com delivers a full range of BMX Racing products, highlighted by the Chase BMX Brand. Other brands of BRG: Elevn Racing, Insight BMX, Excess, and Position One. Chase features the ACT 1.0 Carbon fiber frame and the Chase RSP 4.0 Alloy race frame, as well as the line of Element and Edge complete bikes.
For More info on Chase or any of the BRG Brands, please visit bmxracinggroup.com or BRGstore.com
IG & Twitter: @BMXRacingGroup / FaceBook: www.facebook.com/BMXRG