With the USA BMX season winding down, the last regular national of the year, the Disney Cup, is always an anticipated event, for riders who are looking to grab a few more good scores before the grands, as well as traveling to the sunshine state of Florida to compete and go for the over all Disney Cup champion after the 3 day national event.
Connor Fields has had a great USA BMX season, with attending 14 USA BMX events leading up to the Disney cup, with 11 visits to the podium at those events! Sitting 2nd in overall points, Connor was looking for a 2nd or better result to gain points towards the over all title chase.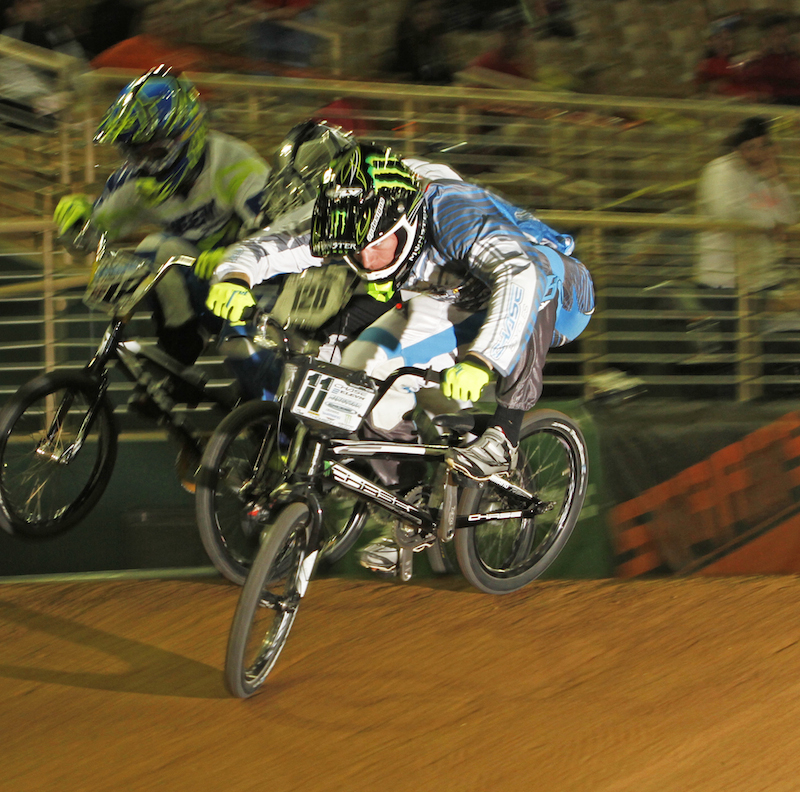 Photo by : gOrk
The indoor venue for this years events gave the riders a different type of track then they have been racing on all summer, but it was a welcome change to mix things up for the 33 of the worlds best BMX pro riders.
On Day 1 Connor looked strong on the track, making his way to the main events. The 3 main event format tests the ability of the Pros, as they need to be consistent to take the overall title. Connor had a great battle in all 3 main events with David Herman and Sam Willoughby, and the 3 would each swap positions in each of the 3 main events. When the points were tallied up after the 3rd main event, Connor would finish up 3rd overall for the day, again on the podium.

On Day 2, Connor once again negotiated his way back into the main event, and again, he would battle all 3 main events with Sam Willoughby, and this time Corben Sharrah was in the mix as well. It was some tight racing after the 3 main events, but once again, Connor was on the podium, with another 3rd place overall.
Connor had a slight strain feeling on Saturday night and decided he would sit out racing on Sunday, so he could take some rest and be 100% prepared for the USA BMX Grand nationals next month in Tulsa, OK.
Chase BMX will have a full display of our 2 lines of 2014 BMX Complete bikes, the Edge and Element, as well as the new RSP 2.0 Frame at the USA BMX Grand Nationals, along with a huge giveaway contest that riders attending can enter after getting their USA BMX Goodie bags!
Chase BMX is proudly sponsored by Shimano, FLY Racing, Tioga, Elevn Racing, ODI, Insight, Thomson, Excess, and KingStar.
Chase BMX is proudly supported by Tioga BMX, Shimano, Elevn, Kicker, Excess, Fly Racing, KingStar, ODI, Insight, and Thomson. Chase BMX is a division of the BMX Racing Group. For More info on any of the BRG Brands, please visit BMXRACINGGROUP.COM
Twitter: @BMXRACINGGROUP
FaceBook: WWW.FACEBOOK.COM/BMXRG
Instagram: BMXRACINGGROUP