The Chase BMX Pro team Trio of Joris Daudet, Izaac Kennedy, and Barry Nobles took to the USA BMX Headquaters impressive BMX race track this weekend to race stop 4 of the 2023 Pro Series tour at the Legacy Nationals.
The Hardesty National BMX Stadium is quite the impressive Venue for any BMX race, but this weekends Pro series event is a Pre cursor for the recently announced 2024 UCI BMX World Cup event to be held in Tulsa!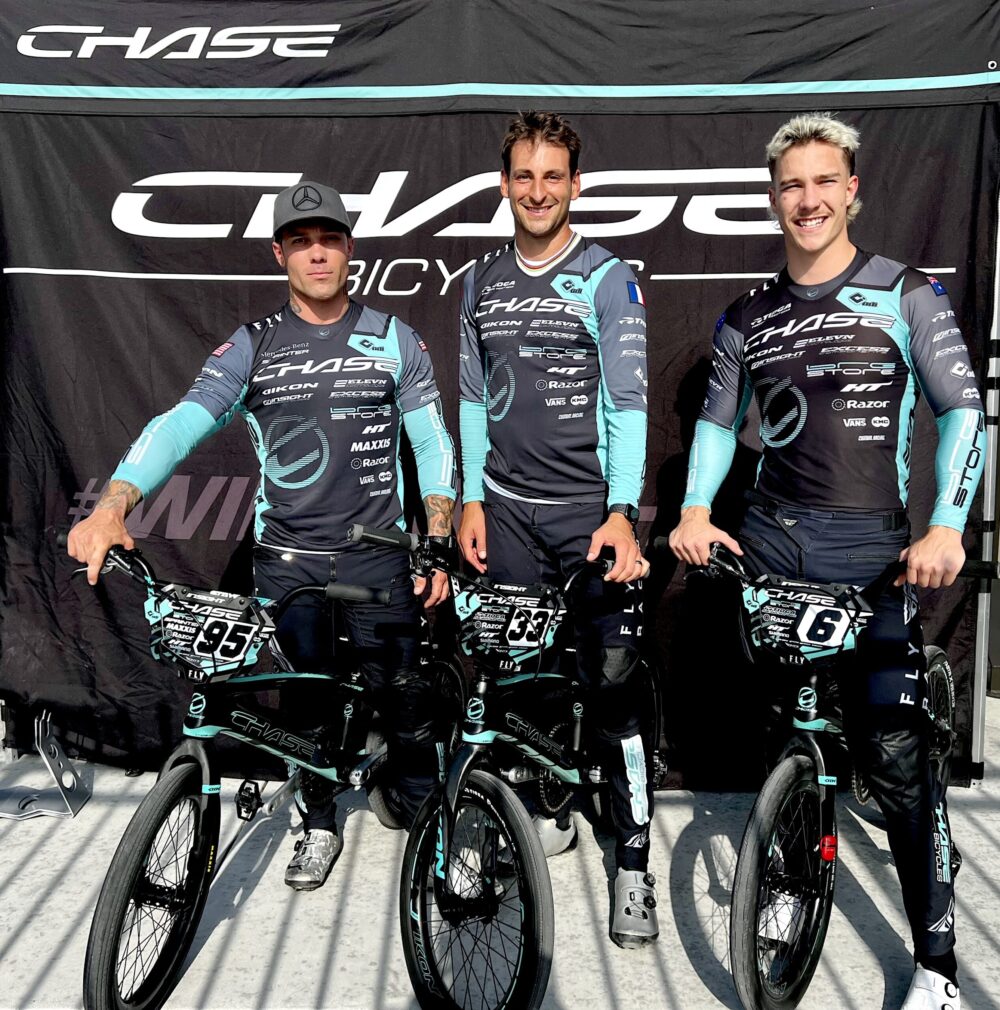 Joris Daudet is looking to add to his record breaking 5 USA BMX #1 Pro Titles and so far in 2023, Joris was leading the Pro Title Battle heading into the weekend. Joris made his way into the Day 1 main, but was off the podium unfortunately.
On Day 2 Joris was ready for redemption. He would be on point all day and looking fast heading into the main. Being in the right place at the right time is a position you put yourself in by being fast and in the main. This would be the key to the Victory, as Joris was in the hunt but a crash up front gave him a clear path to the lead and the win on Day 2!
View this post on Instagram
Izaac Kennedy has had an incredible start to his time at the Chase BMX team with already obtaining a few podiums and a win in the early part of the 2023 season.
On Day 1 Izaac made his way into the main event. He took the lead and raced his way to victory. But seems there was some action down the last straightaway and his result was questioned after the race, as a rider protested and Izaac was moved to last place for the day.
Day 2 was once again a day to forget as if you watch the video above, Izaac crashed out of the race. Unfortunate to see but glad Izaac got up and will be able to race another day.
View this post on Instagram
Barry Nobles had been in Tulsa for a few weeks leading up to the Legacy Nationals, helping out the USA Cycling Program with a team camp. Barry got some time on the track for himself as well. On Day 1, Barry took the hole shot and never looked back, taking the win. View it here:
View this post on Instagram
Day 2 for Barry was a lot like day 1, as he would take the win and give the Tulsa fans something to cheer for!
View this post on Instagram
Chase BMX is proud and honored to be supported by some of the best brands in BMX and the sporting industry!