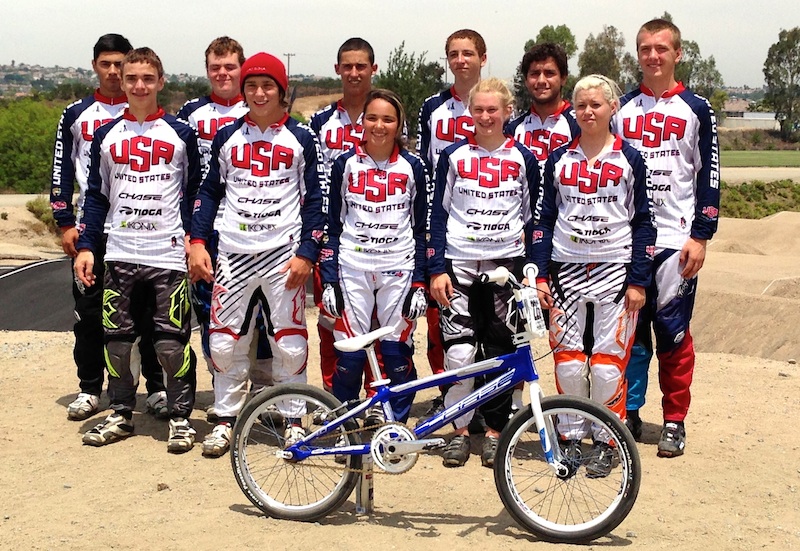 While most of America was getting ready for the 4th of July holiday, a dedicated group of young USA BMX riders were looking towards the future with a dream of one day representing the USA at the Olympic Games. The 2nd of 4 USA Cycling Jr Development BMX Camps of 2013 took place at the Chula Vista Olympic Training Center. Once again, Chase BMX and Tioga BMX were proud to support the camps series. The USA Cycling BMX Development Series (Devo) is designed to take the next generation of young talented amateur BMX athletes to the highest level of BMX racing. The goal of this program is to prepare this group by allowing unprecedented access to the U.S. Olympic Training Center and both of the BMX Supercross tracks in Chula Vista, California. The program is targeting all 15 and 16-year-olds using the 2013 UCI BMX calendar season (Jan. 1 – Dec. 31) and the birth year of 1997-1998. Each of the 2013 USA BMX National events host a USA Cycling Development Series race, where the riders can qualify for a spot at one of the 4 camps per each season. The top 2 riders in each the Boys & Girls class from the USA BMX race series earn a free week long camp at the OTC!
The 2nd Camp of 2013 was held during July1 – 7th. This Camp was lead by Elite Woman Super star Arielle Martin, with the direction of USAC BMX Coach James Herrera. Guest Coaches included Connor Fields, Barry Nobles, Nick Kohler, and Jamie Staff. Special Guest Speakers included Jason Richardson and Pete Dylewski.
The Jr Devo Riders attending: Ryan Zinzow, Tucker Rice, Nick Connelly, Brendan Canale, Michael Boyle, Mario Lopez, Kyle Leiber, Damien Ontiveros, Kristen Klein, Elida Beeman, and Paige Norton.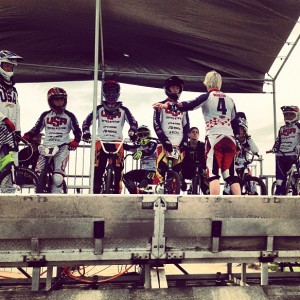 Chase BMX and Tioga offered products for every rider at the camp, as well as the BMX Racing Group putting together a goodie bag of items from the Chase BMX team sponsors for each camper in attendance. Items included a set of Tioga PowerBlock & PowerBand S-Spec tires, Insight Vision 3D Number plate, Limited Edition USA patriot ODI Grips, a pair of Kicker in ear Headphones and more. For more information on the USA Cycling Junior Development camps, please visit www.usacycling.org
Pete Dylewski from BRG noted "BRG is excited to give back to USA Cycling and do what we can to help out with the future stars of BMX racing. Its exciting to watch the progression of the sport. The riders at each camp are given any advise or product support we can to give the riders every advantage we can help with during each of the camps!"
About Chase BMX: Chase BMX frames were created to bring the BMX racing world a new standard for the Elite level of BMX racing frames. No gimmicks, just straightforward technological advancements to offer you the lightest and stiffest frames. These advantages allow you to get all the human generated power to the ground, and give you the biggest advantage offered from any current BMX frame – The winning advantage. www.chasebicycles.com
About Tioga: Tioga is one of the originators of the BMX racing tires. Starting off with the Comp 3, Tioga has lead the industry for almost 30 years with the worlds best tires. Tioga now Produces the PowerBand and PowerBlock – The ultimate BMX racing tires, designed to efficiently transfer pedal power and other rider inputs into lateral motion. In short, you'll roll faster with less wasted energy. The S-Spec version utilizes Tioga's thinnest sidewall for maximum suppleness and weight savings. Size for size, the S-Spec are the lightest BMX tires in the world. www.tiogausa.com