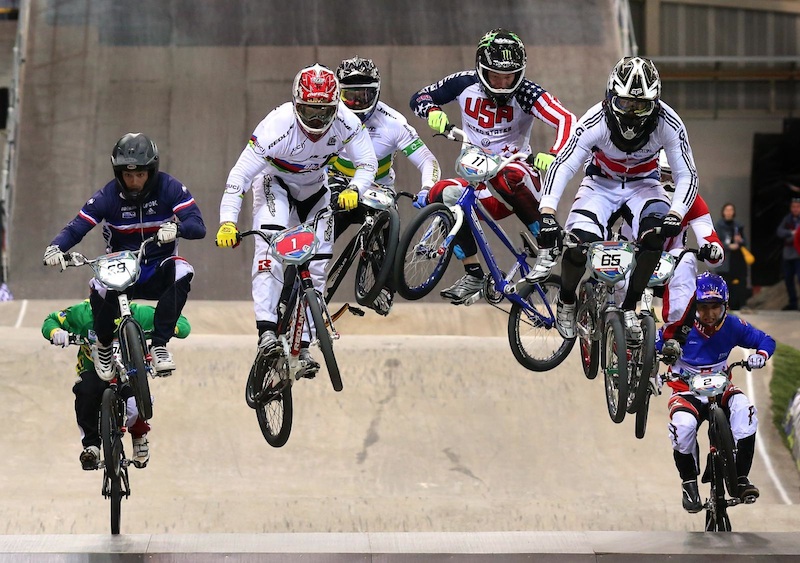 Jumping into the first turn of the main event, things got very tight for Connor Fields and the Elite mens main event. This is where his winning streak for the day ended, but staying up and riding to a 5th felt like a victory to him!
After a dominating day, and a near crash in the final, Connor Fields finishes in 5th place 
Chase BMX Elite rider Connor Fields narrowly escapes a vicious crash, and keep the wheels turning during Saturday nights UCI BMX Elite Mens main event at the 1st stop of the UCI BMX 2013 Supercross race series. Connor, the lone team USA Elite male rider in the main event, rode a flawless day through his 3 initial moto races, the 1/4 final, and the semi final races. As the top 8 riders from the day loaded up into the gate, it was apparent from the racing that had gone down all day, that it was going to be a tight and hectic main event. Connor, along with Liam Philips had both been unbeaten through the day, and Sam Willoughby, Tory Nyhaug, and Anthony Dean were also riding incredibly well.
As the gate dropped for the main event, Connor and Liam were out just a tad over Sam, Anthony, and Tory. Hitting the jum into the 1st turn is where things went haywire for Connor, as he and Anthony bumped in the air, and Both riders got sideways. Connor showed his massive bike skills tallent or his huge stash of good luck, as he was able to get back to teh ground and stay upright, and come back to capture a 5th place finish for the day. Liam Philips would go onto keeps his weekend of racing undefeated and win the event, with Tory Nyhaug finishing up 2nd, and Sam Willoughby in 3rd.
Connor heads back to the USA and gets ready for the next Elite Mens event – Round #2 of the UCI BMX Supercross World Cup race series on May 9-11 in Santiago de Estero, Argentina.
Elite Men
1-Liam Phillips (GBR)
2-Tory Nyhaug (CAN)
3-Sam Willoughby (AUS)
4-Sylvain Andre (FRA)
5-Connor Fields (USA)
6-Renato Rezende (BRA)
7-Joris Daudet (FRA)
8-Anthony Dean (AUS)
To watch a reply of the race action from this event, head over to http://www.bmxlive.tv/#/features to check out the event as well as past UCI BMX races and the Lane 1 BMX TV show. 
Chase BMX is proud to be supported by our great sponsors: Elevn Racing, Shimano, Excess, Fly Racing, KingStar, ODI, Insight, Tioga, Kicker, and Thomson.