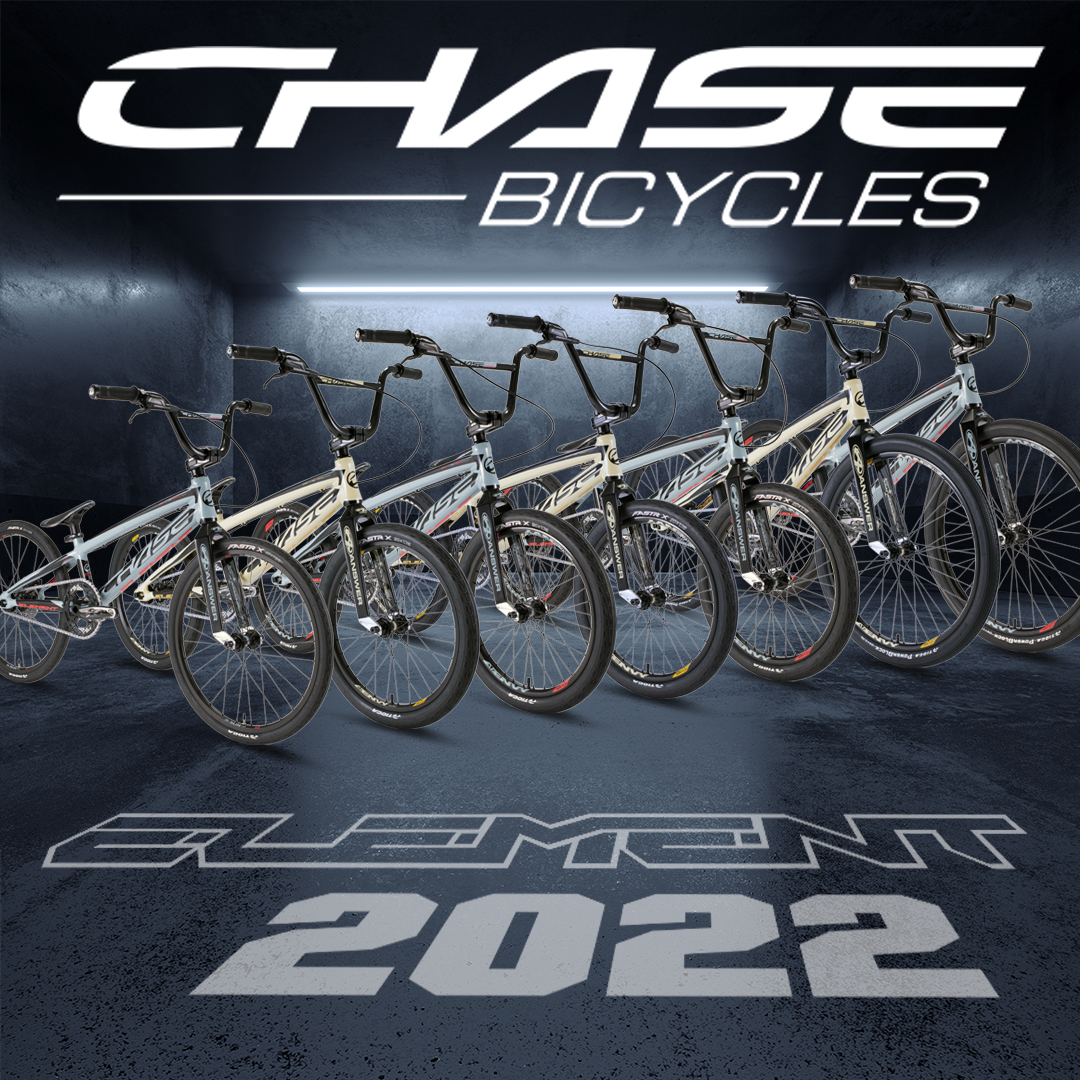 THE 2022 CHASE ELEMENT IS THE ULTIMATE COMPLETE BMX RACE BIKE EVER OFFERED!
Available in January 2022, Chase Element Pre-Sale will be Starting in December on www.BRGstore.com

At Chase, we strive to offer the best bikes in BMX racing, to help you #winwithchase. When it comes to our complete bikes, we want to take the hassle out of building up a race bike and offer you a Complete bike with some of the best parts in BMX racing and help you win on the track as soon as you get your bike build up out of the box.
For the 2022 Chase Element, we exceeded even our own expectations with the Element. We started off by adding 2 new sizes of the complete bike – XXXL and Pro+ Cruiser, we added on parts from Brands like Tioga, Answer, Elevn, Excess, KMC, Insight, Sun Ringle, and then refined the geometry thanks to our Pro Team Riders suggestions and completely dialed in the 2022 Element race bikes to a level never seen before in a complete race bike!
The only thing we couldn't control was the delays in getting the bikes delivered. But as they say, all good things are worth the wait. And with the 2022 Chase Element Complete bikes, this statement is dead on. Arriving in January, the 2022 bikes will light up your smile, as well as light up the track, so be ready fans!
7 SIZES NOW OFFERED FOR 2022
2 new sizes for 2022 : PRO XXXL & PRO+ CRUISER
Sizes :
EXPERT, PRO, PRO XL, PRO XXL , PRO XXXL, PRO CRUISER, and PRO+ CRUISER.
2 NEW COLOR OPTIONS FOR 2022
Offered in Slate/Mustard/Black or Sand/Red/Black 
Featuring parts from:

Available January 2022, Pre-Sale Starting in December on www.BRGstore.com