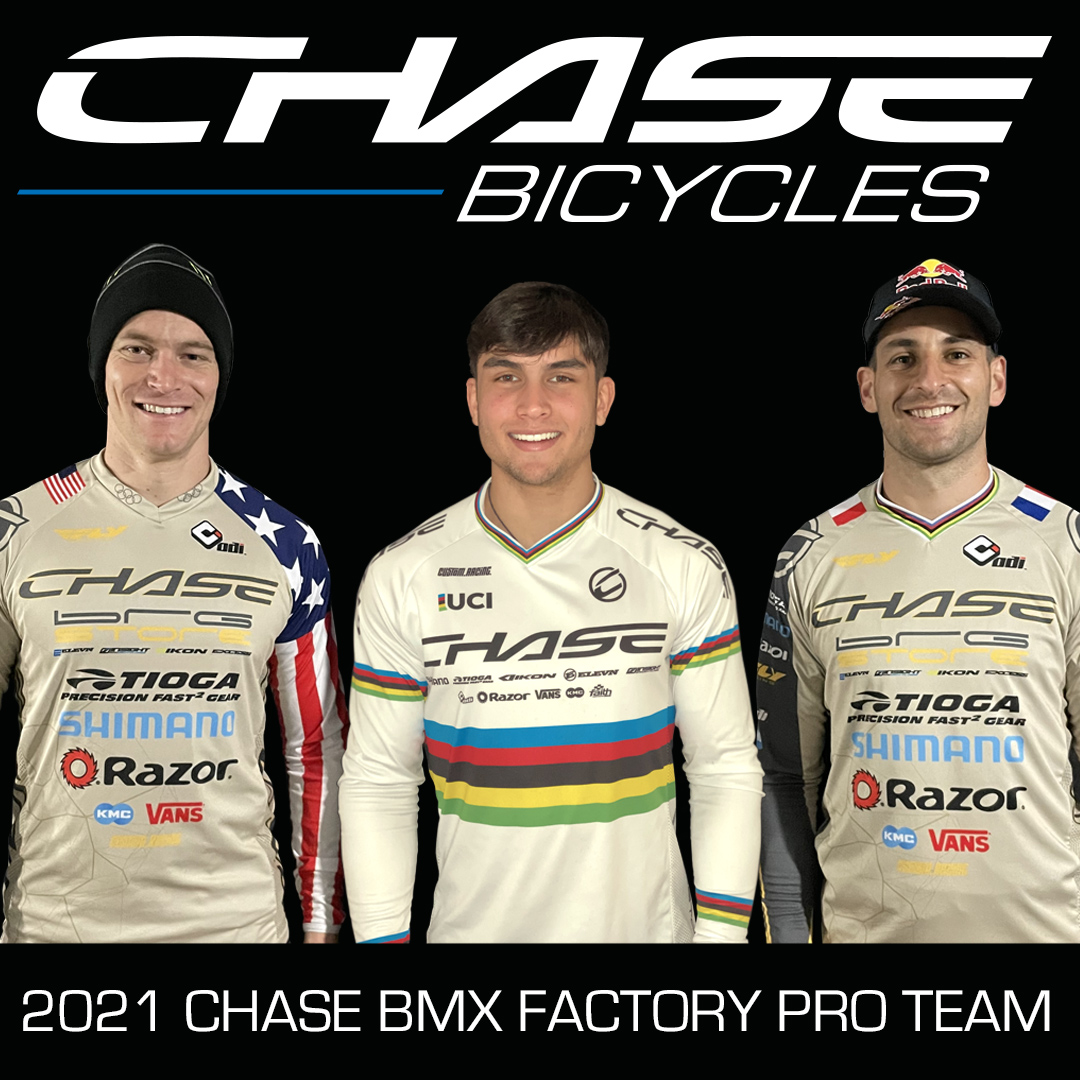 Chase BMX is proud to announce the contract extensions for both Connor Fields and Joris Daudet, as well as the promotion of Tatyan Lui-Hin-Tsan to the Chase BMX Factory Pro team.
Connor Fields had an incredible 2020 season with winning the overall UCI BMX Supercross World Cup series, the USA Cycling National Championship, and the USA BMX #1 Pro title, his 3rd time doing so. Connor now will prepare to defend his Olympic Gold Medal when the postponed Olympics finally take place in Tokyo in July of 2021. He will also try to win a 4th USA BMX #1 Pro title, an accomplishment only done by a few riders in BMX history.
Joris Daudet fought back from an injury plagued 2019 season to come back to full speed in 2020 and take #2 overall in the USA BMX AA Pro series. Joris will compete in the USA BMX tour and on the UCI BMX World Cup Circuit, looking to make his 3rd French Olympic team and racing for the elusive medal he so desires at the games. Joris will also try to win his 4th USA BMX #1 Pro title.
Tatyan Lui-Hin-Tsan is the current UCI BMX Jr Elite World Champion and he will be moving up to the Elite class in 2021. Tatyan will be racing throughout France and Europe, as well as  select UCI International events for the Chase BMX Pro team.
We are excited for another big year of BMX racing in 2021 with the most powerful Pro Team in BMX!
The 2021 Chase team will be racing aboard the new ACT 1.2 Carbon frames, available now!

The Chase BMX Pro Factory team is proud to be supported and partnered with some incredible companies – Fly Racing, Tioga, Razor, Shimano, Elevn, ODI, Vans, Ikon, KMC, Insight, Excess, Pro Tracks, BRGstore.com, Custom Racing, and ONYX.