Chase Bicycles is proud to introduce the 2016 line of complete bikes. This is a preview of the bikes, as they will be available for sale mid September 2015 at a better BMX bike shop near you, or from one of our Authorized On-Line BMX Bicycles dealers.
For the past 3 years, Chase has been biding upon and improving the line of complete bikes, and this years offering is our best yet and some of the best complete BMX racing bikes you can buy!
The Edge Line has grown to 9 models, with 2 new additions for the smallest of bike riders and Chase fans, a Micro Mini race model and the Edge Walking bike! The Gunmetal Grey finish with the red highlights gives the edge line an all new look, while upgraded parts such as the new 96 points of engagement sealed rear hub, Insight 4 Bolt sprocket (Expert XL and above), and fully Integrated head tubes bring the level of quality thru the roof!
The Element line continues to get showcase ideas and Research and Development from our Pro Team riders. We have fashioned the color-way of the Element to reflect the Factory team RSP race bikes, with adding Blue parts and graphics. The 2016 Element bikes have a al new, exclusive to Chase BMX, aero seat tube, Aero Pivotal Seat post, and Aero design Quick Release seat post clamp. We have also improved the bike with such features as a new staggered pawl system rear cassette hub, Excess LSP cranks, Insight 4 bolt sprocket, and Elevn Embossed Pivotal seat make this the top of the line BMX race bike for under $1000.00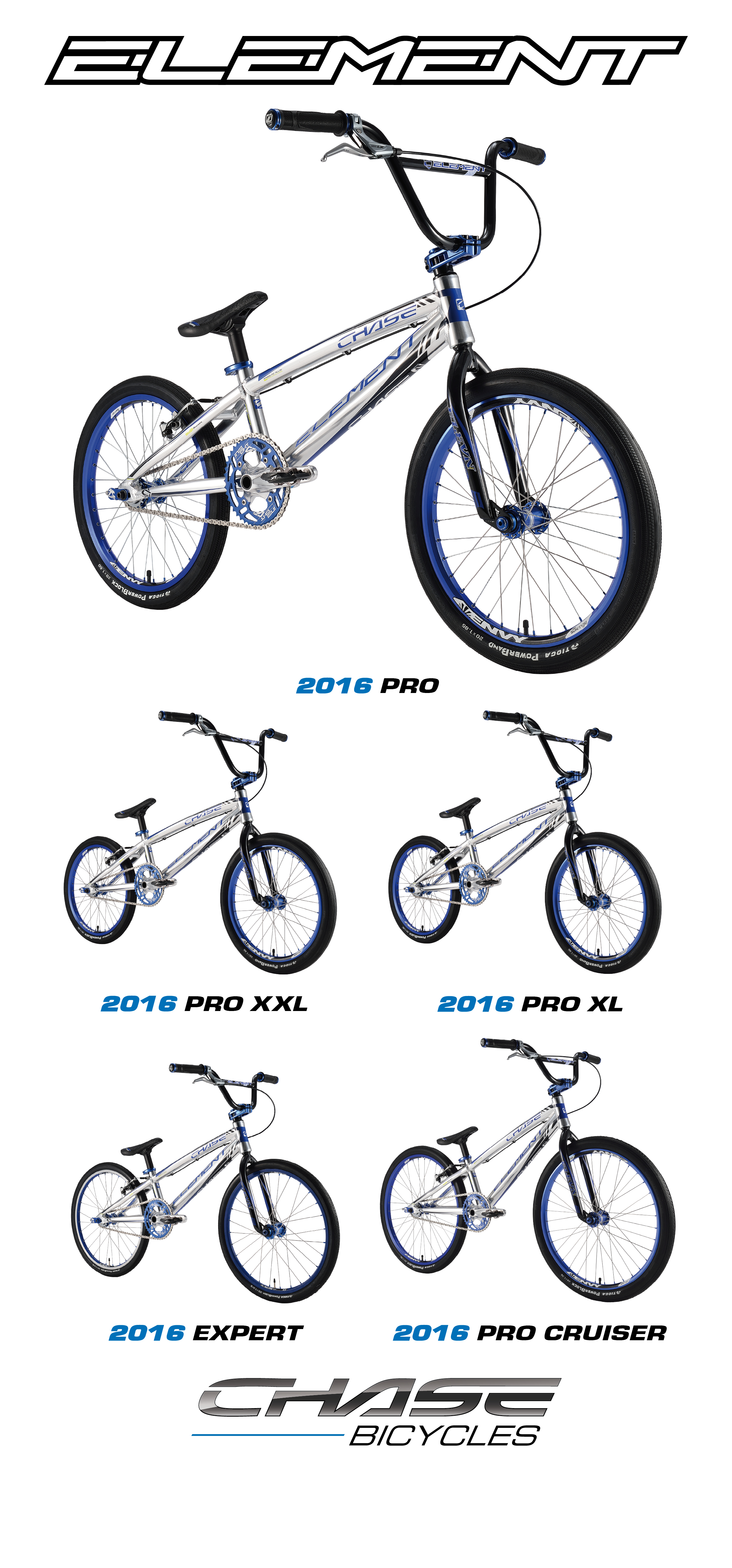 We are excited and proud to show you the line of new bikes from Chase Bicycles. From our race team, to our dedicated staff of employees world wide, we are sure you will agree that the 2016 Chase BMX Bikes are the best bike in BMX racing today!
From Christophe Leveque and myself, Pete Dylewski, thanks so much for going on this ride with us!
For Full details on the all of the 2016 Complete bikes, please visit ChaseBicycles.com