The best frame in BMX just got a little bit better, as we refined a few areas of the original Chase frame to take the Chase RSP 2.0 to the next level !
The RSP 2.0 features a refined newly shaped intergraded head tube that directs the brake cable routing through it. The brake cable runs through the head tube, alongside the steer tube, into the top tube and the cable exits in the rear of the Top Tube- This gives the frame and ultra smooth look while hiding the cable! The RSP 2.0 frames come with brake cable housing already threaded into the frame.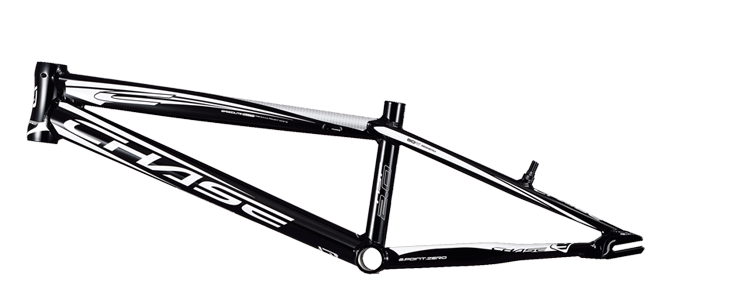 The RSP 2.0 also features a refined BB shell to not only help reduce weight, but offer the rider a stiffer design, that helps reduce flex and put more power to the rear wheel by increasing the surface area and adding strength to the chain stays. Another new feature on the 2.0 frame is the curved seat stay brace, again reducing weight and increasing stiffness slightly from the 1.0 frame. Its a small change, but its the attention to detail on the RSP 2.0 frame is what makes it the best Alloy Frame in BMX racing today.
We are also excited about the new design of the graphics, for a clean, factory look. Chase only uses an ultra hi tech process to utilize super thin decals under the clear coat, than not only keeps your frame looking better, but it also helps keep the weight of the all over graphics on the frame to a minimum. it may not seem like much, but when a race is decided by inches, the reduce weight is a key to victory!
The Frame is offered in 3 color options – Black, White, or Limited Edition Polished. The RSP 2.0 has expanded to 13 sizes, as we have added an Expert Cruiser size.
For more information on the frames, please visit – www.chasebicycles.com